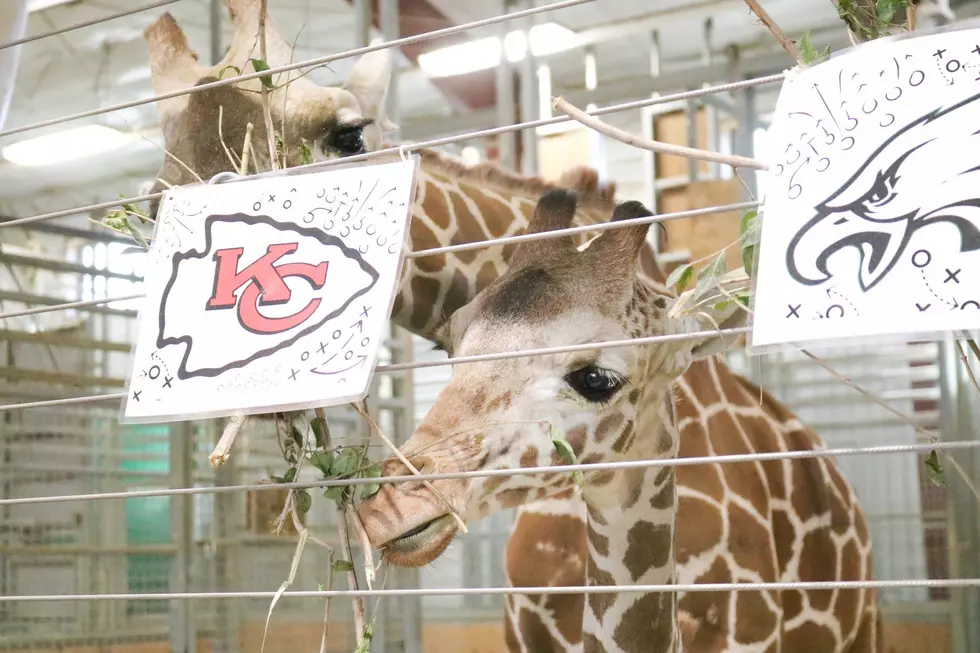 Adorable Iowa Giraffes Predict This Year's Super Bowl Winner
Blank Park Zoo, Facebook
Blank Park Zoo in Des Moines has a fun Super Bowl tradition that involves some of their cutest animals!
On Wednesday afternoon, a couple of Iowa giraffes had a tough choice to make. 5-month-old Bakari and his mother Zola were "asked" to predict the winner of this year's Super Bowl! Basically, logos for the Philadelphia Eagles and the Kansas City Chiefs were placed on the fence in front of the two giraffes, and behind each logo was a bundle of branches with green leaves. Whichever branches the giraffes gravitated towards would indicate the winner. So, who did they choose? According to Facebook:
"BIG GAME PREDICTION: After much pondering, Bakari the five-month-old giraffe and his mom, Zola, have predicted that the Kansas City Chiefs are walking away with the big WIN this Sunday."
This may not be the most scientific way to predict the winner of the Super Bowl, but it sure is the cutest! The most surprising part is that the Blank Park Zoo says that different zoo animals have picked the correct winner for nine of the last twelve Super Bowls. Last year, Luna the owl AND Misha the tiger correctly chose the Los Angeles Rams to win over the Cincinnati Bengals.
We'll find out on Sunday if Bakari and Zola are right about their prediction, and I'm sure a lot of Midwesterners are hoping they are! I know we have a lot of Kansas City Chiefs fans here in Iowa, so it makes sense that our giraffes are fans, too. Let us know who you're rooting for this year in the comments!
LOOK: Stunning animal photos from around the world
From grazing Tibetan antelope to migrating monarch butterflies, these 50 photos of wildlife around the world capture the staggering grace of the animal kingdom. The forthcoming gallery runs sequentially from air to land to water, and focuses on birds, land mammals, aquatic life, and insects as they work in pairs or groups, or sometimes all on their own.
KEEP LOOKING: See What 50 of America's Most 'Pupular' Dog Breeds Look Like as Puppies
More From ESPN 104.1 FM and 1170AM