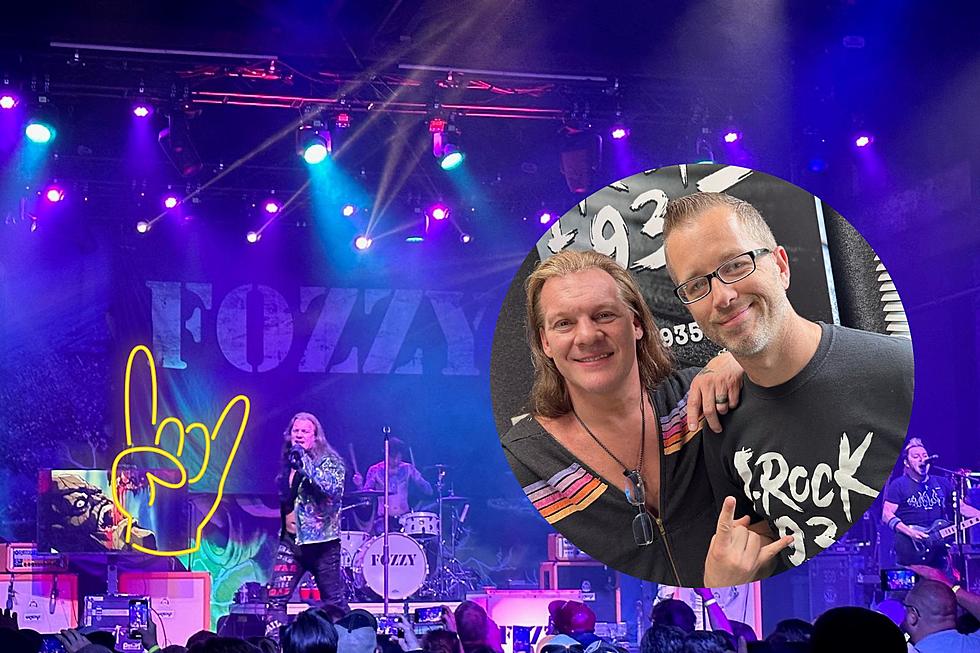 Chris Jericho Didn't Hold Back During Our Interview Before Rocking The Rust Belt In East Moline
Townsquare Media / Canva
Before Fozzy rocked The Rust Belt in East Moline, Chris Jericho came by the Rock and Roll Mansion for an exclusive chat with I-Rock 93.5.  Not on the phone.  Not on Zoom.  In-person, one-on-one with (insert your nickname for him here) to talk about music, wrestling, and a bit of everything.
Fozzy at The Rust Belt
It was great to see Fozzy in concert for the first time.  They played for a bit over 60 minutes with hits like "Sane", "I Still Burn" and of course, "Judas".  They also went deep and played all their original material while doing what Chris does best.  Entertain.
As Chris said during the interview Fozzy is just "a great rock and roll party every time we play".  They've played with some of the best.  They've sold out their own cruise.  They can command the audience.  But that is what he has been doing for decades.
When I asked him about mixing in the wrestling and the music, like you know somebody running on stage with a chair shot, he said when Fozzy first started they made a point of keeping it completely separate because they didn't want to be a wrestling gimmick band.  Chris compared it to Taylor Momson with the Pretty Reckless saying "When they play it doesn't matter she was in Grinch."
Jericho Can Talk
Chris has made a living in the ring and on the mic.  He can cut a promo with the best of them.  And he can talk long form with the best of them.  His "Talk is Jericho" podcast is one of the most listened-to podcasts out there.  So I knew when we started talking (as long as I could spit out the question) he'd have great answers.
What all did we talk about in the nearly 30-minute conversation...well...
We talked about everything he does and how he gets it all done with time management.  But I can tell you from the moment he got in the building he knew where to go, what needed to be done, and how to start it and wrap it up.
Fozzy's biggest song of "Judas" was another topic with him saying "When we were making the video for Judas somebody asked me how many views I hope it gets.  And I said 3 million would be great.  It got 1 million in the first week and is now at 67 million.".  He also shared the back story to when "Judas" was sung by the fans at a Houston AEW show without the song playing for his ring entrance.  One of the coolest moments in wrestling history.
Chris said "We enjoy headlining but if AC/DC, Iron Maiden, or Guns N' Roses call we'd be happy to show up.  That led us into a discussion about the Rock and Roll Hall of Fame which again, Chris didn't hold back.
You can expect to hear more from Fozzy sooner because Crhis is on the new tech train of releasing a song every 4-5 months instead of making albums.
One more thing before you listen before was I had to ask him if he ever tried to give himself a nickname but the bosses told him no.  The one he took to WWE owner Vince McMahon didn't understand was G.O.A.T.  But Vince let him try it.  Jericho said it worked, but now everybody is the G.O.A.T.  He also then named the greatest of all time in the world of wrestling and rock...Shawn Michaels and The Rolling Stones.
Take a listen to the full interview with the Ayatollah of Rock and Rolla (that is the one that will always stick with me) below.
30 famous people you might not know were college athletes
Stacker
dug deep to find 30 celebrities who were previously college athletes. There are musicians, politicians, actors, writers, and reality TV stars. For some, an athletic career was a real, promising possibility that ultimately faded away due to injury or an alternate calling. Others scrapped their way onto a team and simply played for fun and the love of the sport. Read on to find out if your favorite actor, singer, or politician once sported a university jersey.
LOOK: 50 images of winning moments from sports history
Sometimes images are the best way to honor the figures we've lost. When tragedy swiftly reminds us that sports are far from the most consequential thing in life, we can still look back on an athlete's winning moment that felt larger than life, remaining grateful for their sacrifice on the court and bringing joy to millions.
Read on to explore the full collection of 50 images Stacker compiled showcasing various iconic winning moments in sports history. Covering achievements from a multitude of sports, these images represent stunning personal achievements, team championships, and athletic perseverance.
More From ESPN 104.1 FM and 1170AM