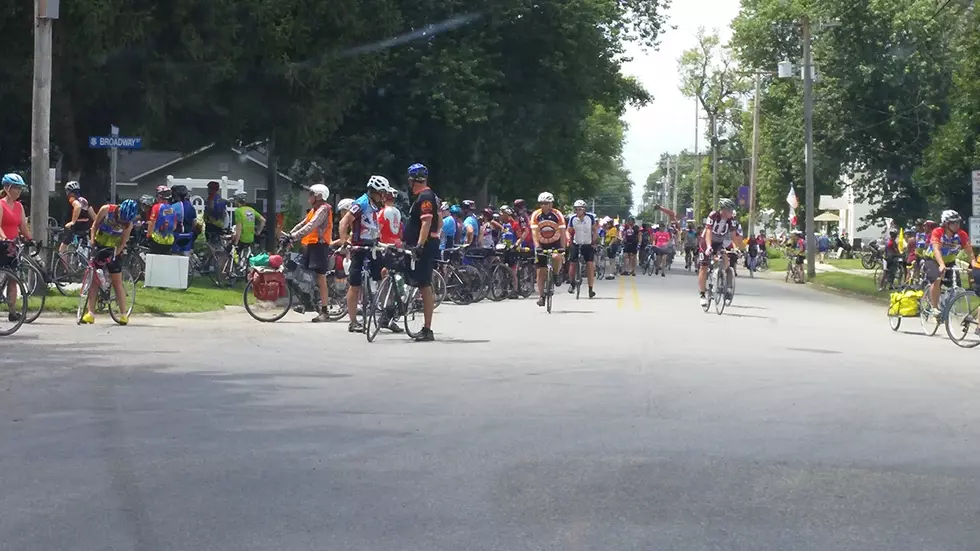 Clinton Road Closures For RAGBRAI
Photo By: Elwin Huffman - Townsquare Media
The final day of the Register's Annual Great Bicycle Ride Across Iowa (RAGBRAI) is this Saturday, July 31. Riders will end their 454.1-mile bike ride across Iowa in Clinton this year. As the city of Clinton prepares for riders to dip their tires in the Mississippi River, city officials announced road closures to prepare residents and businesses.
Tomorrow is the final day of RAGBRAI. Riders will hop on their bikes in DeWitt and make the final 31.6-mile ride to their final destination, Clinton. Riders will start to pour into the city of Clinton Saturday morning which means road closures are inevitable.
The City of Clinton announced on social media roads that will be closed and instructions for residents to follow starting tonight (Friday) and into Saturday.
City officials say that in order to best accommodate riders into and through town, it will be necessary for a few road closures. The following roads will be closed:
Mill Creek Parkway between 19th Ave NW & Main Ave
Main Ave From Main Ave to 2nd Street (See Map for HWY 67 Detour)
Riverview Drive from 9th Ave North to 6th Ave North
5th Ave South from Riverview Drive to South 1st Street
5th Ave South From Riverview Drive to South 1st Street
6th Ave North from Riverview Drive to 2nd Street
South 5th Street from Liberty Ave to Lincoln Way
Pershing Blvd (Main Ave-9th Ave N) will be closed to all automobile traffic
In addition to the main route, city officials say that residents should also expect to see a large number of cyclists in the downtown area and along the bike trails. To accommodate the route and the cyclists, some of the roads that would normally access the portion of the route along Main Ave or Pershing Boulevard will be closed. See the following traffic impacts:
Homes between 16th St NW and North 11th St
If you have the ability to park elsewhere or limit the usage of your driveway on Saturday the 31st, the city kindly request you do so.
Those who absolutely must use their car, please exit your driveway when free of riders and safe, and proceed to either 19th Ave North or to 16th St NW whichever is closest to your driveway.
City officials ask that you do not enter town via Main Ave.
West Stockwell Lane
Closed at Main Ave: all homeowners along North & West Stockwell should exit via North 3rd Street Intersection.
Eagle Heights
Homes in the neighborhoods north of Main Ave should use 25th Ave North to exit towards 3rd Street.
Homes Along Main Ave (11th Street- Pershing Blvd.) & Pershing Blvd (Main Ave- 9th Ave N)
Homes along Main Ave & Pershing will not have any vehicle access to the front of their home. This means no street parking or driveway access during the ride. Residents whose driveways are along this route or that normally park on the road, the city asks that you please park on the side streets from 7 p.m. Friday until 5 p.m. Saturday.
Beginning at 7 p.m. on Friday, the Police Department will begin checking to make sure the road is clear of parked cars. For those who live on the north side of Main Ave and need access to their car, city officials ask that you park across the street.
In addition to this local rerouting, City of Clinton officials say that there will be a larger more expansive detour for Highway 67 and 136. Westbound 136 will be detoured south down 2nd Street to 13th Ave North and west to Elvira (See Green Route on Map above). Northbound 67 will be detoured at Main and 2nd, north before turning west at 30th Ave North (See Red Route on Map above).
Quad Cities Trivia
Do you think you are a Quad Cities expert? Test your knowledge below!
LOOK: 20 Fascinating Photos From the First Modern Olympic Games in 1896
To celebrate the history of international sports cooperation,
Stacker
 took a look back at that groundbreaking event in Athens, when the modern Olympics were born in 1896. Keep reading to learn more about the athletes, spectators, and sports at that iconic event.
More From ESPN 104.1 FM and 1170AM