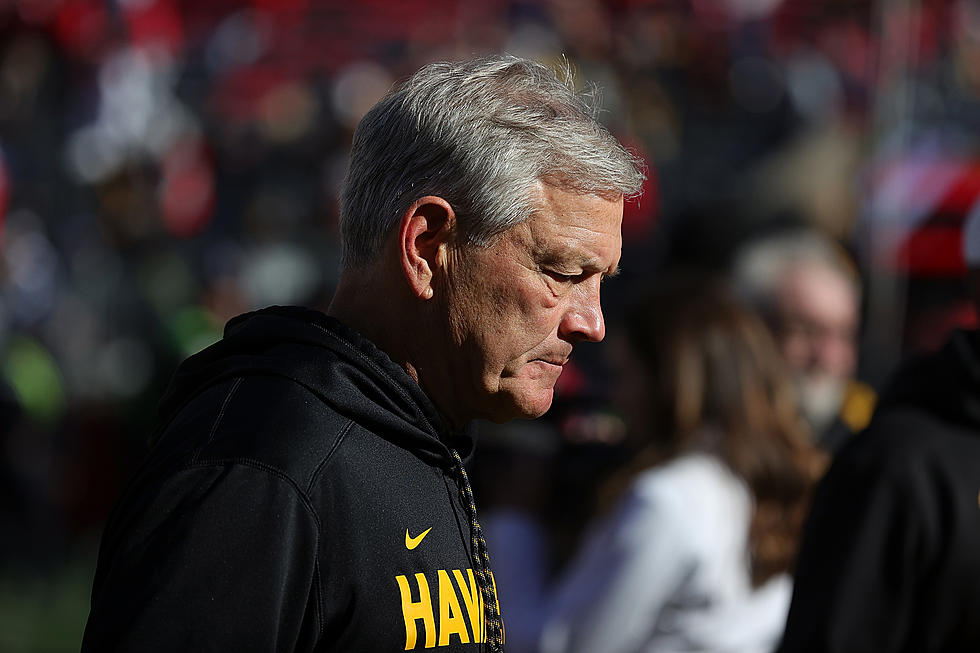 Could This Be Kirk Ferentz's Final Year At Iowa?
Getty Images
It was a trying football season for Hawkeye fans. A world-class defense. An offense that couldn't score. A head coach set in his ways. His son under intense scrutiny. Not exactly the things that dream seasons are made of. Yet, despite all those headaches and off-the-field headlines, Kirk Ferentz coached last year's Iowa team to an eight-win season including another bowl win. So then why are retirement rumors swirling around Iowa City?
First, let's reveal the source of these rumors. ESPN's Adam Rittenberg recently posted an article about the potential for the coaching carousel in the Big Ten to be relatively quiet, save for one job. Iowa's Kirk Ferentz. Rittenberg wrote that Ferentz could surprise everyone and retire at the end of the year. His reasoning?
Ferentz is signed through 2029 and essentially will determine when he wants to hang it up. He turns 68 in August but remains in good health and could coach several more seasons. But the stress of last season, especially around a struggling offense coordinated by his son, Brian, could take a toll as he evaluates how much longer he wants to coach.
There is no doubt that having your son under the gun all season would put Ferentz in a stressful position. Perhaps no one wants to see Brian succeed more than his father. But Hawkeyes Wire points out that there are some other factors that might signal Kirk's run is coming to an end. College football is changing rapidly. Conference changes, NIL deals for players, and of course, the transfer portal. How long will Ferentz want to put up with a constantly changing landscape?
Hawkeyes Wire also points out that the Big Ten is about to get, well, bigger. USC and UCLA are knocking on the door, meaning long trips to the West Coast and more competition for top players and NIL money. Will Kirk be around to see Iowa through a conference expansion?
Personally, I think Kirk has a lot left in the tank. Last season, some people compared the current state of Hawkeye football to when Hayden Fry departed. Fry left the cupboard pretty bare. Ferentz is in no such situation. His next two incoming classes are both ranked high nationally. He has some big-time talent arriving via the transfer portal this season that I think is going to rejuvenate the offense. Let the national publications surmise all they want. Captain Kirk isn't going anywhere.
Most Memorable Moments of the 2022 Iowa Football Season
Iowa finished the season 8-5, including a 21-0 shutout win over Kentucky in the Music City Bowl. The 2022 season will be remembered as one that was carried by the defense while its offense struggled mightily throughout the season.
University of Iowa ANF Wall of Honor Members
The University of Iowa's has now announced 10 members of the America Needs Farmers Wall of Honor at Kinnick Stadium.
More From ESPN 104.1 FM and 1170AM