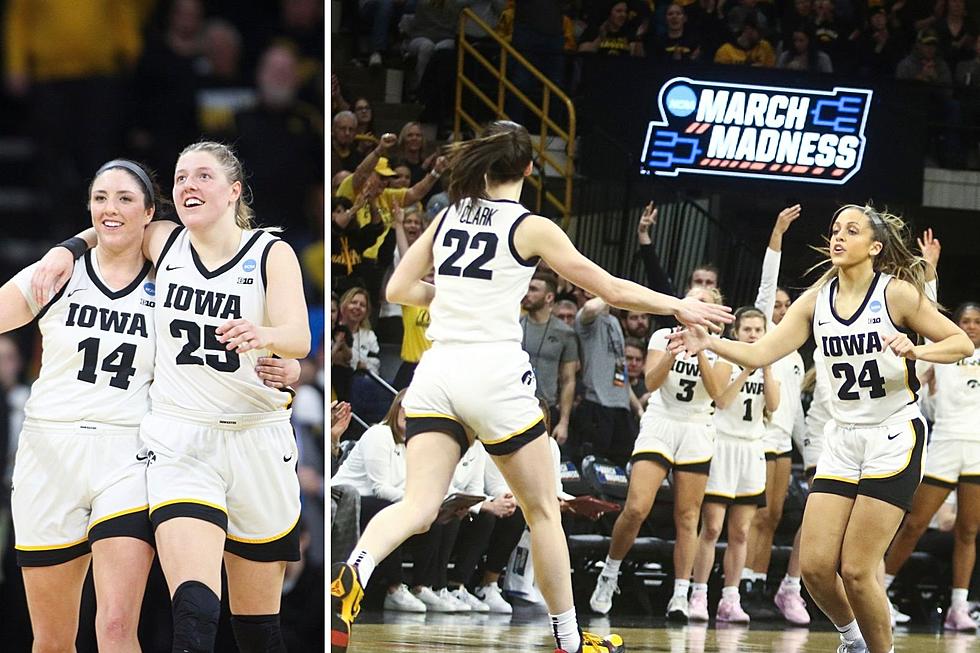 Everything You Need to Know For Iowa's Sweet 16 Game vs. Colorado
Getty Images
Friday's meeting between Iowa and Colorado is obviously a big game for both teams. For Iowa, it presents an opportunity to get back to the Elite 8. That's something the program has only done one other time in the last 30 years. Here's a look at the Sweet 16 game that will be played in Seattle.
The Iowa women's basketball team knocked Georgia out of the NCAA Tournament Sunday afternoon at Carver-Hawkeye Arena. It was Iowa's 28th win of the season, against only 6 defeats, and their 6th straight victory.
Friday, the Hawkeyes will play their first NCAA Tournament game away from Carver-Hawkeye Arena since 2021, when they won twice in San Antonio before losing in the Sweet 16 to Connecticut. The Huskies would reach the Final 4.
The 3rd-ranked Hawkeyes will play the 21st-ranked Buffaloes, who are led by Quay Miller. The 6'3" senior center leads the team in scoring (13.1 points per game) and has nearly twice as many rebounds as anyone else on the team (averages 8.7 rebounds per contest). Miller is the only Colorado player that averages more than 30 minutes (31.5) per game. In addition to her inside game, she's also made 36 3-pointers this season.
Second in both scoring (12.1 per game) and rebounding (4.5 per game) is 6'3" sophomore Aaronette Vonleh. She shoots nearly 60 percent from the floor. Vonleh has fouled out of seven games this season.
Jaylyn Sherrod will run the show offensively for Colorado. The 5'7" senior averages 11.3 points, 3.2 rebounds, and 4.5 assists per game. She also leads the team with 77 steals. 
You also can't forget about Frida Formann, who's the other Buffaloes player that averages in double figures at 11.7 per game. The 6'1" junior also shoots nearly 40 percent from 3-point range.
For the Hawkeyes, Caitlin Clark and Gabbie Marshall will be huge. Like Iowa, the Buffaloes have held their opponents to under 30 percent from 3-point range this year. Iowa has shot 37-percent from behind the arc with four starters shooting at least 38 percent (Clark, Martin, Marshall 38%; Warnock 39%).
As you've already read in this story, Monika Czinano will be challenged in the paint by Quay Miller. Czinano shoots 68 percent from the floor and averages 17.5 points. That's second only to Caitlin Clark's 26.8 per contest.
Colorado's ability in the paint makes the return of Big Ten Sixth Player of the Year Hannah Stuelke all the more important. Stuelke, a 6'2" first-year player from Cedar Rapids who turned her ankle in practice last Saturday, can score...
and perhaps even more importantly, she's a force on the boards. Despite playing only 13 minutes per game, she's averaging 4.2 rebounds per game, to go along with 7 points per outing. Stuelke didn't play on Sunday, but she's made a big improvement since then. Here's the update from Thursday afternoon.
Colorado scores an average of 69 points per game while surrendering 58.5.  Iowa averages 87.4 while allowing 70.4. What jumps off the stat page is that Iowa has shot 266 more 3's than Colorado, making 113 more on the season.
Bluder and her staff will be trying to get Iowa back to the Elite 8 once again. They did it in 2019. Before that, the program's last trip was in 1993.
Iowa and Colorado tip-off Friday night at 6:30 p.m. central on ESPN. The winner will play Sunday against either Ole Miss or Louisville. Those two teams will play the final game on Friday.
Best Photos From A Magical Weekend at Carver-Hawkeye Arena
On Saturday and Sunday, February 25 and 26, 2023, the Iowa men's and women's basketball teams pulled off last-second victories against Michigan State and Indiana.
On Saturday, the men became just the 4th team in college basketball history to overcome an 11-point deficit with less than 1 minute to play.
On Sunday, the #6 Iowa women defeated #2 Indiana on a 3-point shot at the buzzer by Caitlin Clark.
Most Memorable Moments of the 2022 Iowa Football Season
Iowa finished the season 8-5, including a 21-0 shutout win over Kentucky in the Music City Bowl. The 2022 season will be remembered as one that was carried by the defense while its offense struggled mightily throughout the season.
More From ESPN 104.1 FM and 1170AM