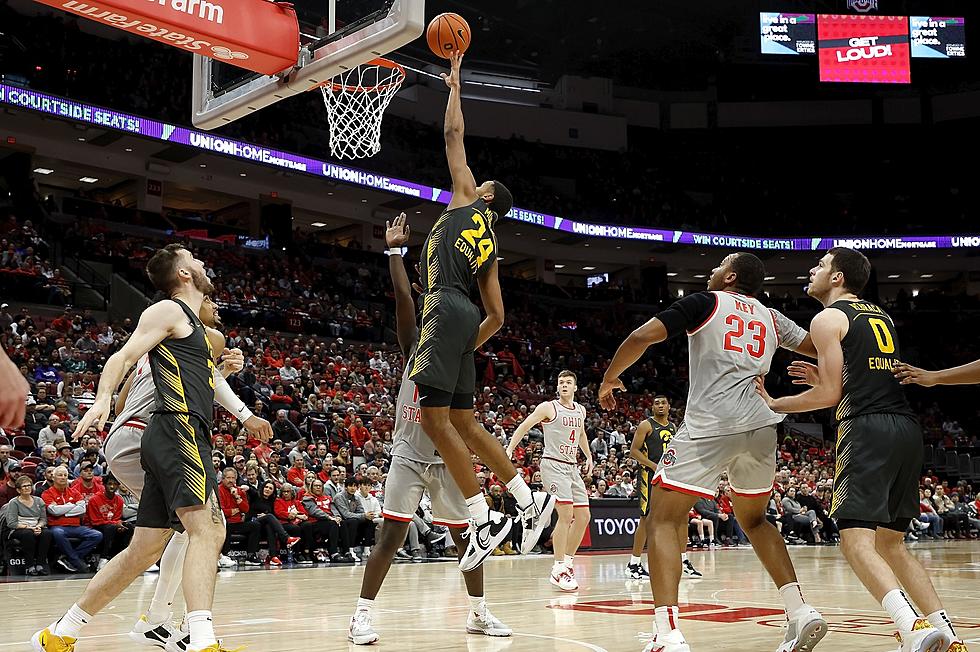 Iowa Men Land Six Players on Big Ten All-Conference Teams
Getty Images
As the second season of the college basketball year is about to begin in the Big Ten, the all-conference teams have been announced. Iowa is well represented.
Last weekend obviously didn't go as the Iowa men's basketball team hoped, losing at home to Nebraska. As it turned out, that loss dropped Iowa from a #2 seed in this weekend's Big Ten Tournament to the #5 seed. That moved Iowa from not having to play until late afternoon Friday to early afternoon on Thursday.
Still, the team that lost the Big Ten Player of the Year (Kris Murray) from a season ago has managed 19 victories and very nearly finished behind only Purdue in the Big Ten standings.
As Iowa looks ahead to a game against either Wisconsin or Ohio State (approximately 1:30 p.m. Thursday on Big Ten Network), six players have been named All-Big Ten.
Junior forward Kris Murray was chosen First-Team All-Big Ten by both the media and the coaches. He was a unanimous First-Team choice by the media. It marks the 4th straight season Iowa has had a unanimous First-Team choice (2022-Keegan Murray; 2020 and 2021-Luka Garza).
Murray leads Iowa in scoring and rebounding at 20.5 points and 8 rebounds per game. He averaged 21 points per contest in Big Ten play.
Iowa coach Fran McCaffery has now coached a First-Team All-Big Ten player in eight of the last 10 years. The only other time that happened at Iowa was from 1939 through 1948, under head coach Rollie Williams. Fran's honorees over the last decade are:
2023: Kris Murray
2022: Keegan Murray
2021: Luka Garza
2020: Luka Garza
2017: Peter Jok
2016: Jarrod Uthoff
2015: Aaron White
2014: Devyn Marble
Hawkeye forward Filip Rebraca was chosen Third-Team All-Big Ten by the media. Coaches made him an honorable mention pick.
Rebraca averages 13.9 points and 7.6 rebounds per game. He's scored in double figures 26 times this season, most on the team. He also has nine double-doubles, tops on the team.
The very underappreciated Connor McCaffery was chosen honorable mention by both the media and coaches.
McCaffery, a guard/forward, is #1 in the nation in assist-to-turnover ratio. He averages 4.19 assists for every turnover, a crazy-good number. He has had 13 games this year where he hasn't made a single turnover. McCaffery's 111 victories in a Hawkeye uniform is tied for #1 all-time with Jordan Bohannon.
Junior guard Tony Perkins was also named honorable mention by both the coaches and media.
Perkins leads Iowa in steals (43) this season and is the team's third-leading scorer at 12.4 points per game. He's scored in double figures in five of his last six games.
Guard Payton Sandfort was chosen Sixth Man of the Year by Big Ten coaches.
Sandfort averages 10.2 points per game to go along with 4 rebounds per contest. He's the fourth Hawkeye to be named Sixth Man of the Year. The other three were Nicholas Baer (2017), Gabriel Olaseni (2015), and Doug Thomas (2006).
Forward Patrick McCaffery was named the winner of the Big Ten Sportsmanship Award for the second consecutive season.
McCaffery averages just over 10 points per game. He missed a number of games earlier in the season as he battled anxiety.
Best Photos From A Magical Weekend at Carver-Hawkeye Arena
On Saturday and Sunday, February 25 and 26, 2023, the Iowa men's and women's basketball teams pulled off last-second victories against Michigan State and Indiana.
On Saturday, the men became just the 4th team in college basketball history to overcome an 11-point deficit with less than 1 minute to play.
On Sunday, the #6 Iowa women defeated #2 Indiana on a 3-point shot at the buzzer by Caitlin Clark.
Most Memorable Moments of the 2022 Iowa Football Season
Iowa finished the season 8-5, including a 21-0 shutout win over Kentucky in the Music City Bowl. The 2022 season will be remembered as one that was carried by the defense while its offense struggled mightily throughout the season.
More From ESPN 104.1 FM and 1170AM