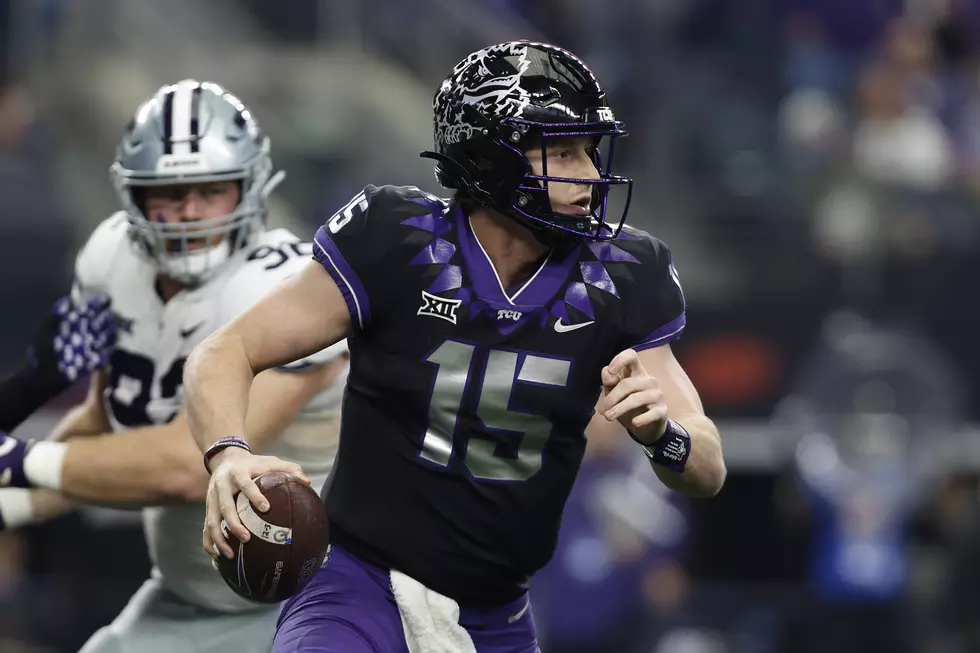 Iowa Native Named Heisman Trophy Finalist
Photo Credit: Tim Heitman, Getty Images
There are always Cinderella stories in college football. You have your stalwart institutions like Alabama, Ohio State, and Clemson, who are perennial contenders almost every single year. But every season, a team comes out of nowhere and surprises us with how good they are. More often than not, it's the quarterback who propels them to success.
TCU starting quarterback Max Duggan has witnessed it first-hand. TCU was coming off a disappointing 5-7 season that saw their head coach Gary Patterson depart midway through the season after holding the position for 21 years. Under the tutelage of journeyman coach Sonny Dykes, few people thought the Texas university could make noise this season.
Fast-forward to the end of the regular season and TCU is an eye-popping 12-1. They're ranked No. 3 by the AP, and they're set to face Jim Harbaugh's Michigan Wolverines in the Fiesta Bowl on New Year's Eve. Meanwhile, Duggan might be taking home some hardware on Saturday, December 10th, as he is one of four finalists for the Heisman Trophy.
Council Bluffs native Max Duggan joins Georgia's Stetson Bennett, Ohio State's C.J. Stroud, and USC's Caleb Williams (all quarterbacks) as the finalists for the coveted piece of hardware. Duggan's stats are strong across all major categories: he completed 64.9% of his passes for 3,321 yards, 30 touchdowns and only four interceptions. He also rushed for a touch over 400 yards, good enough for six touchdowns for his senior year.
Duggan has had to overcome a lot in his career. His first two years at the helm were shaky at best. he posted TCU posted a combined 9-10 record and his stats were all over the place. Then, prior to the COVID-19 season, Duggan had to have a nine-hour heart surgery following a Wolff-Parkinson-White syndrome diagnosis.
I found a video of Duggan from his sophomore year of college. At that point, he just lost the biggest game of his life. You can see the competitive fire in his eyes and his desire to be great. He wears his emotions on his sleeve. He's a tough-as-nails player who is a clear-cut leader of men.
After the Fiesta Bowl, Duggan will probably throw his hat in the ring for the 2023 NFL Draft. Who knows what round he'll be taken? Fellow TCU quarterback Andy Dalton was taken in the second round with eerily similar stats. That's a debate/mystery for another day. One thing is for sure: Max Duggan has had a hell of a season, making TCU fans, and Iowa natives, rejoice in his unforeseen success.
Iowa Born Sports Stars
What do each of these stellar athletes have in common? They all hail from the Hawkeye State.
More From ESPN 104.1 FM and 1170AM