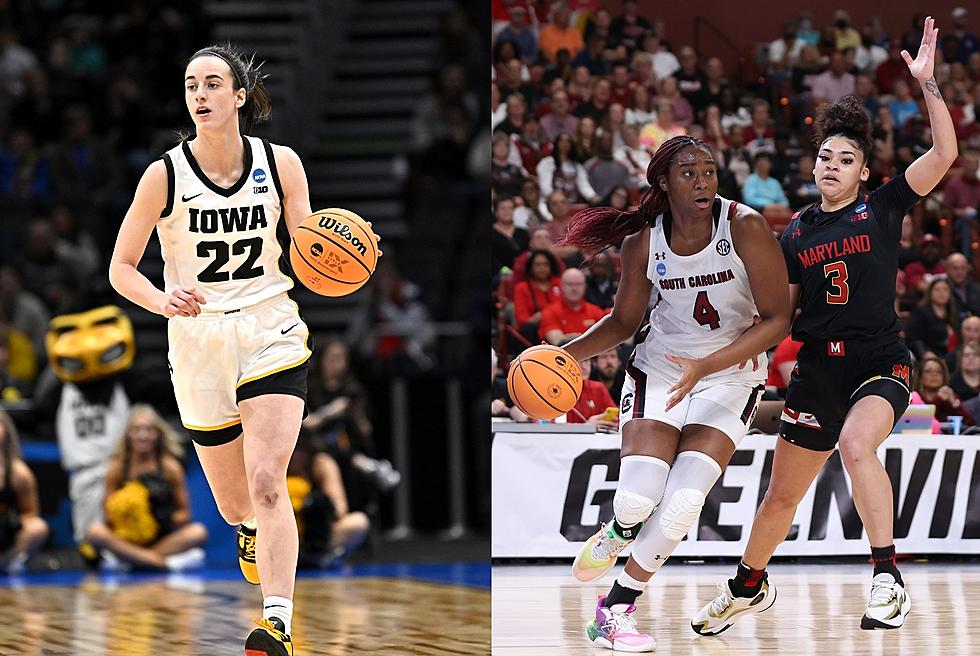 Iowa to Tangle With Nation's Only Undefeated Team in NCAA Semifinal
Getty Images
Iowa knocked Louisville out of the NCAA Tournament Sunday night and just under 24 hours later, they know who they'll face Friday night in Dallas, Texas.
Come up with any superlative you want and it probably fits what will be the last national semifinal played Friday night at American Airlines Arena in Dallas. LSU and Virginia Tech will begin just after 6 p.m. Then, tipping off at approximately 8:30 Friday evening, it's 3rd-ranked Iowa versus #1 ranked South Carolina.
Both the Hawkeyes and Gamecocks have set school records for wins in a season. Iowa is 30-6 and South Carolina 36-0, the nation's only undefeated team. Iowa has won 8 in a row heading into Friday night's showdown while South Carolina, the defending national champion, has won 42 in a row.
You know who Iowa's leading scorer is. If Caitlin Clark isn't named the National Player of the Year, the award will never be taken seriously again.
You also know that Iowa is much more than Caitlin Clark. Gabbie Marshall, Monika Czinano, McKenna Warnock (hidden in photo), and Kate Martin are a formidable starting five. Iowa's bench also factors in, every game.
South Carolina is led by the 2021-22 National Player of the Year, 6'5" Aliyah Boston.
South Carolina has lots of size, and Iowa will have to battle for every single board during the game.
The Hawkeyes departed for Dallas earlier this evening.
South Carolina will make their way to the Lone Star State soon after their 86-75 victory over Maryland in tonight's first Elite 8 matchup.
The University of Iowa is hosting a watch party inside Carver-Hawkeye Arena Friday evening. The north, south, and west doors will open at 7:30 p.m., with the clear bag policy in effect. You'll be asked to sit on the east side of the arena, with no floor access due to construction. Parking is free in all surrounding lots, with no reserved parking. 
We have four long days to wait for what is the most-anticipated Iowa women's basketball game in three decades. It will be televised by ESPN and will likely be the most-watched game in the history of women's college basketball in the United States. That's not hyperbole, that's a fact.
The Top 10 Highest-Rated Restaurants in Iowa City
Using the popular site
Yelp
, we took a look at the top ten highest-rated restaurants in Iowa City. Here are the results!
Best Photos From A Magical Weekend at Carver-Hawkeye Arena
On Saturday and Sunday, February 25 and 26, 2023, the Iowa men's and women's basketball teams pulled off last-second victories against Michigan State and Indiana.
On Saturday, the men became just the 4th team in college basketball history to overcome an 11-point deficit with less than 1 minute to play.
On Sunday, the #6 Iowa women defeated #2 Indiana on a 3-point shot at the buzzer by Caitlin Clark.
More From ESPN 104.1 FM and 1170AM