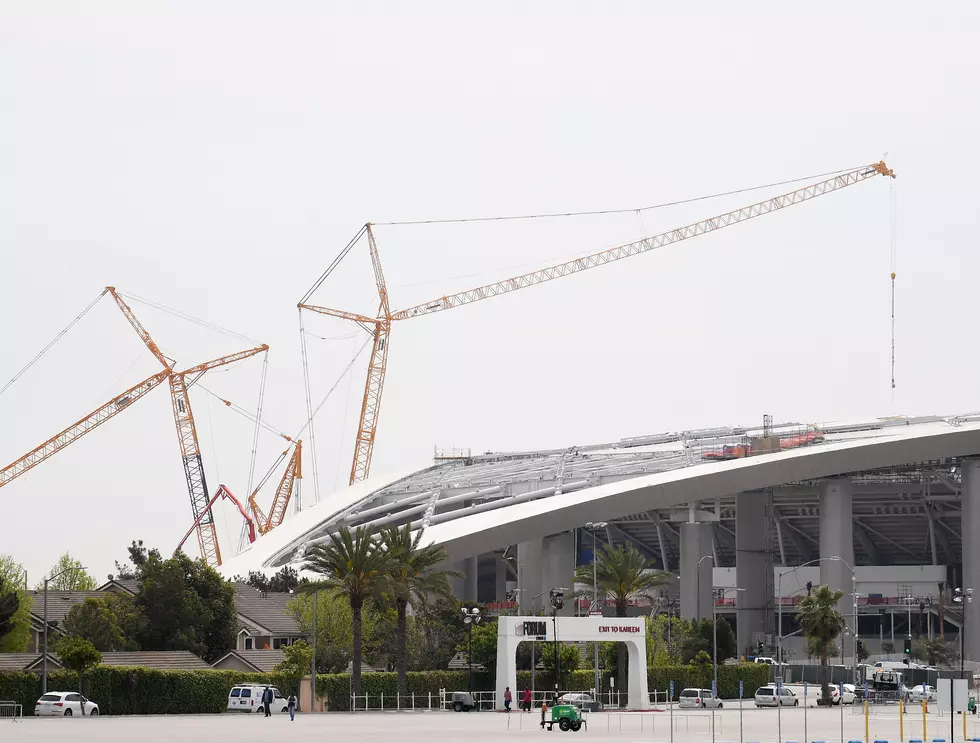 Largest Ever Videoboard Completed In L.A.
Getty Images
As major league teams across the country hope to get people back to the stadiums they need to ensure the fan experience will be better than watching the game at home or a bar.  Yeah, you get a thrill for being at a game, but you also have no control over replay, wifi, who you are sitting next to, the bathroom lines, food choices and of course, the massive prices.  This is why things keep getting bigger and better at the stadiums.
Of course if someplace is going to have the biggest, shiniest, best anything, where else would it be but L.A.  SoFi Stadium (future home of the Rams and Chargers) unveiled their videoboard today.
According to the NFL:
The 2.2 million pound videoboard is composed of 70,000 square feet of digital LED and is 120 yards long, or 1.2 times longer and 1.5 times wider than the field. The videoboard has more than 260 speakers embedded into its structure and has the wattage strength to power 1,500 home theater systems.
That is serious screen.  The screen is a full circle around the field and I will say, the coolest part is that it has video on every side.  So your best vantage point might be right in front of you or looking across the field.  This might not sound like much, but it makes a big difference.  Having been to AT&T stadium in Dallas (aka JerryWorld) that is a problem with that massive screen.
See it for yourself, virtually.  Check out a video as constructions crews moved the giant videoboard into place here.
Enter your number to get our free mobile app
MLB Stadiums
More From ESPN 104.1 FM and 1170AM