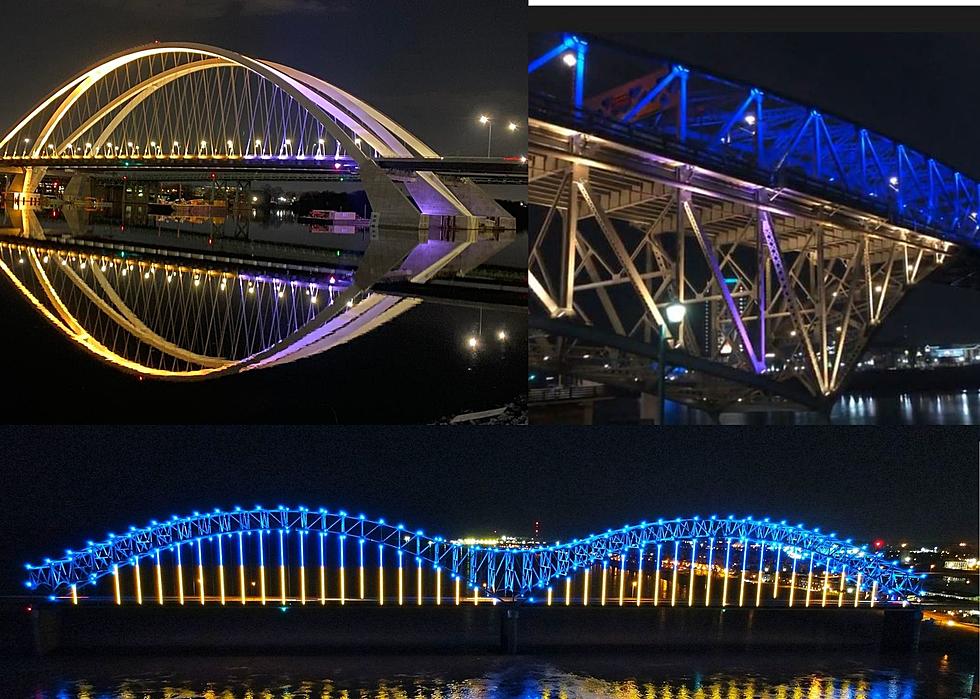 See How Bridges Along the Mississippi River Show Support for Ukraine
City of Bettendorf Facebook/WJTV/Joe Sills Twitter
Russian attacks continue in Ukraine and the Bettendorf bridge isn't the only spot along the Mississippi River lighting up in support of the country.
The Ukraine flag's colors are blue and yellow and they are reflected over much of the river as Americans stand in solidarity with the Ukrainian people amid the Russian invasion. Several countersteps against Russia have been taken since the invasion, including Iowa's (and others in the country too) ban of purchasing Russian-produced liquor wholesale and the U.S. will close its airspace to Russian aircraft. Companies are taking action. Apple is going to stop selling its products in Russia and Universal Films putting the brakes on releasing films in Russia. Many shifts are happening in response to the shellings.
But for now, even though it's still unfolding, the Russian invasion isn't going as quickly as planned, due to the fierce resistance from the Ukrainians.
"Our people are very much motivated, very much so, we are fighting for our rights, for our freedoms, for our life," Ukrainian President Zelenskyy said. "And now we are fighting for survival, and this is the highest of our motivation."
Back home, there are many thoughts, prayers, and heartbreak for those in Ukraine. The images from train stations, makeshift bomb shelters, and the results from the shellings are cemented in our minds.
Cities along the Big River are paying tribute to Ukraine and the struggles the country faces. Scroll down to see some of the lights along the Mississippi River.
See How Bridges Along the Mississippi River Show Support for Ukraine
As the Russian invasion of Ukraine continues, many in the U.S. are standing in support and solidarity with the Ukrainian people. Bridges along the Mississippi River are lit in the Ukraine flag colors.
100 Interesting Facts About The Quad Cities You May Or May Not Know
The Quad Cities is filled with a very rich history. From inventions to crossing the Mississippi River, to American Presidents and Walt Disney, there are many facts about the Quad Cities that many people do not know. While there are many more stories and facts to share about the Quad Cities, you'll find in these 100 facts that all roads, somehow, lead back to the Quad Cities.
Look At These 13 Amazing Athletes From Illinois In The 2022 Olympics
The 2022 Winter Olympics in Beijing are underway! This marks the first year that the Winter Games are in China, and Beijing is making history as the first city to have played host to both the summer (in 2008) and winter Games.
For the 2022 Winter Olympics in Beijing, 13 athletes are from Illinois check out who is competing below.
More From ESPN 104.1 FM and 1170AM