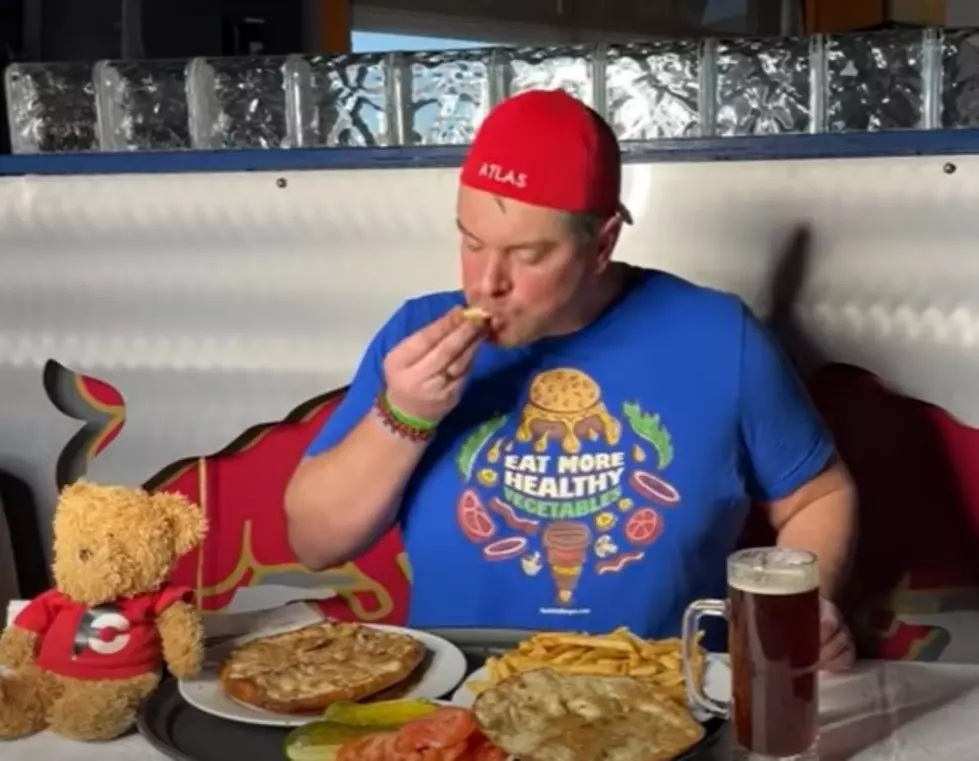 Watch YouTuber Smash the 'Murphy's Burger Challenge' in Rockford, Illinois
YouTube - Katina Eats Kilos
@Katina Eats Kilos is no joke when it comes to eating, and eating a lot!  Pro eater Randy Santel brought his massive appetite to Murphy's in Rockford and did some damage...whoa!
This burger challenge over at Murphy's is no joke, Boz and the crew don't mess around. What do you get if/when you complete this?
$80 burger meal free
 t-shirt
$50 gift certificate 
Spot on the Wall of Fame
Who are we kidding with this, this is all about the bragging right. Keep your t-shirt and shine a light on this guy...That's exactly what we are doing!
OK so let's breakdown this challenge first, think you could do this? You have ONE HOUR to throw down and KEEP down."
A 3lb beef burger patty topped with 8 slices of cheese and 12 slices of bacon. 4 slices of Cheddar cheese and 4 slices of Swiss cheese, tomato slices, a bunch of pickle spears, and some tasty grilled onions, all between a thick & dense freshly baked bun. Also included is over 1lbs of French Fries, dude also threw down an "optional" large beer. Holy crap. This seems nearly impossible, but the great Randy...killed this!
This is some epic food destruction and impressive eating! The was he uses strategy and sorta splits things up so he can get it all done, super impressive.
Check this out!
Elderly Illinois Man Puts Sewing Needles in MEAT!
10 Reasons Why Rockford Pizza Is The Best Pizza
10 Mouthwatering Pics of Doughboys Donuts
More From ESPN 104.1 FM and 1170AM