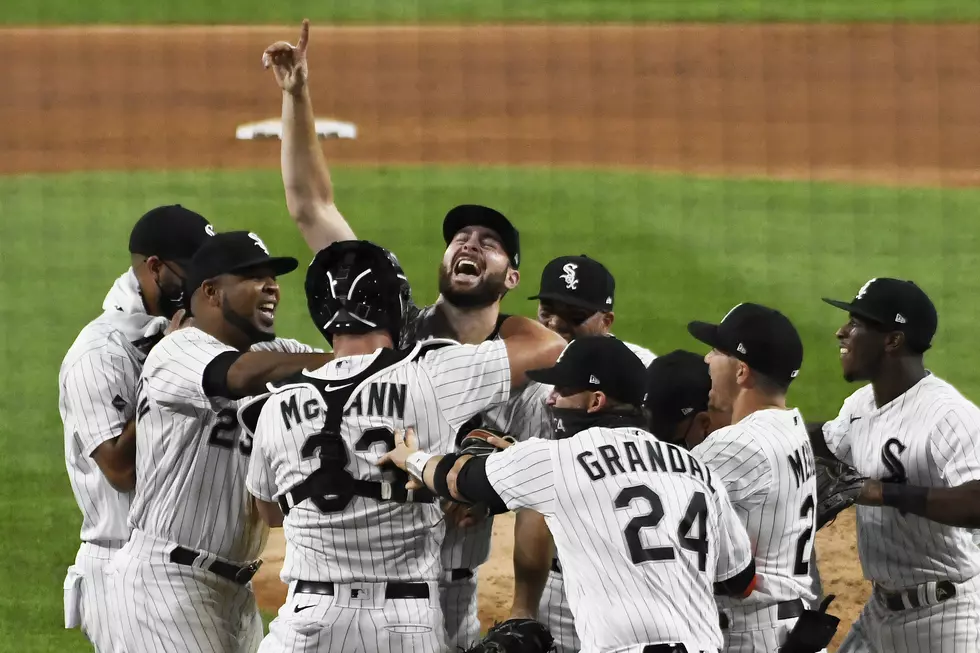 Chicago White Sox Now in the Quad Cities on ESPN 1170
Getty Images
With piles of snow still covering our lawns and the grass at Guaranteed Rate Field it's a perfect time to start thinking about baseball!  The 2021 season will get going on April 1, and ESPN 1170 is proud to be the Quad Cities new home of the Chicago White Sox.
Coming off a 2020 season in which the White Sox would win the Wild Card, 2021 brings more promise of postseason games for the Sox.  With the additions of Lance Lynn to the pitching staff, Adam Eaton in the outfield and 3x World Series champ Tony LaRussa as manager, the White Sox have upgraded that already winning lineup.
The changes weren't all just on the field and in the dugout for the White Sox after the 2020 season.  After 16 seasons as the television voice of the Chicago Cubs, Len Kasper will take over as the radio voice of the White Sox, teaming with Darrin Jackson. Kasper said one of his goals was to call a World Series game.
It won't be long before the grass is green, the birds are chirping, the beers are being opened and we are all enjoying a ball game.  Do it with ESPN 1170 and the Chicago White Sox.
2021 ESPN 1170 White Sox Schedule: (Pregame - First Pitch)
Thu, 4/1 @ Anaheim 8:30p 9:05p
Fri, 4/2 @ Anaheim 8:00p 8:38p
Sat, 4/3 @ Anaheim 7:30p 8:07p
Sun, 4/4 @ Anaheim 7:00p 7:37p
Mon, 4/5 @ Seattle 8:30p 9:10p
Tue, 4/6 @ Seattle 8:30p 9:10p
Wed, 4/7 @ Seattle 2:30p 3:10p
Thu, 4/8 vs. KC 2:30p 3:10p
Sat, 4/10 vs. KC 12:30p 1:10p
Sun, 4/11 vs. KC 12:30p 1:10p
Mon, 4/12 vs. Cleveland 6:30p 7:10p
Tue, 4/13 vs. Cleveland 6:30p 7:10p
Wed, 4/14 vs. Cleveland 6:30p 7:10p
Thu, 4/15 vs. Cleveland 12:30p 1:10p
Fri, 4/16 @ Boston 5:30p 6:10p
Sat, 4/17 @ Boston 2:30p 3:05p
Sun, 4/18 @ Boston 11:30a 12:10p
Mon, 4/19 @ Boston 9:30a 10:10a
Tue, 4/20 @ Cleveland 4:30p 5:10p
Wed, 4/21 @ Cleveland 4:30p 5:10p
Fri, 4/23 vs. Texas 6:30p 7:10p
Sat, 4/24 vs. Texas 5:30p 6:10p
Sun, 4/25 vs. Texas 12:30p 1:10p
Tue, 4/27 vs. Detroit 6:30p 7:10p
Wed, 4/28 vs. Detroit 6:30p 7:10p
Thu, 4/29 vs. Detroit 6:30p 7:10p
Fri, 4/30 vs. Cleveland 6:30p 7:10p
Sat, 5/1 vs. Cleveland 2:30p 3:05p
Sun, 5/2 vs. Cleveland 12:30p 1:10p
Tue, 5/4 @ Cincy 5:00p 5:40p
Wed, 5/5 @ Cincy 5:00p 5:40p
Fri, 5/7 @ KC 6:30p 7:10p
Sat, 5/8 @ KC 5:30p 6:10p
Sun, 5/9 @ KC 12:30p 1:10p
Tue, 5/11 vs. Minnesota 6:30p 7:10p
Wed, 5/12 vs. Minnesota 6:30p 7:10p
Thu, 5/13 vs. Minnesota 12:30p 1:10p
Fri, 5/14 vs. KC 6:30p 7:10p
Sat, 5/15 vs. KC 5:30p 6:10p
Sun, 5/16 vs. KC 12:30p 1:10p
Mon, 5/17 @ Minnesota 6:00p 6:40p
Tue, 5/18 @ Minnesota 6:00p 6:40p
Wed, 5/19 @ Minnesota 11:30a 12:10p
Fri, 5/21 @ NY Yankees 5:30p 6:05p
Sat, 5/22 @ NY Yankees 11:30a 12:05p
Sun, 5/23 @ NY Yankees 11:30a 12:05p
Mon, 5/24 vs. St. Louis 6:30p 7:10p
Tue, 5/25 vs. St. Louis 6:30p 7:10p
Wed, 5/26 vs. St. Louis 12:30p 1:10p
Thu, 5/27 vs. Baltimore 6:30p 7:10p
Fri, 5/28 vs. Baltimore 6:30p 7:10p
Sat, 5/29 vs. Baltimore 12:30p 1:10p
Sun, 5/30 vs. Baltimore 12:30p 1:10p
Mon, 5/31 @ Cleveland 4:30p 5:10p
Tue, 6/1 @ Cleveland 4:30p 5:10p
Wed, 6/2 @ Cleveland 11:30a 12:10p
Thu, 6/3 vs. Detroit 6:30p 7:10p
Fri, 6/4 vs. Detroit 6:30p 7:10p
Sat, 6/5 vs. Detroit 12:30p 1:10p
Sun, 6/6 vs. Detroit 12:30p 1:10p
Tue, 6/8 vs. Toronto 6:30p 7:10p
Wed, 6/9 vs. Toronto 6:30p 7:10p
Thu, 6/10 vs. Toronto 6:30p 7:10p
Fri, 6/11 @ Detroit 5:30p 6:10p
Sat, 6/12 @ Detroit 2:30p 3:10p
Sun, 6/13 @ Detroit 11:30a 12:10p
Mon, 6/14 vs. Tampa 6:30p 7:10p
Tue, 6/15 vs. Tampa 6:30p 7:10p
Wed, 6/16 vs. Tampa 12:30p 1:10p
Thu, 6/17 @ Houston 6:30p 7:10p
Fri, 6/18 @ Houston 6:30p 7:10p
Sat, 6/19 @ Houston 5:30p 6:15p
Sun, 6/20 @ Houston 12:30p 1:10p
Tue, 6/22 @ Pittsburgh 5:30p 6:05p
Wed, 6/23 @ Pittsburgh 11:00a 11:35a
Fri, 6/25 vs. Seattle 6:30p 7:10p
Sat, 6/26 vs. Seattle 12:30p 1:10p
Sun, 6/27 vs. Seattle 12:30p 1:10p
Mon, 6/28 vs. Minnesota 6:30p 7:10p
Tue, 6/29 vs. Minnesota 6:30p 7:10p
Wed, 6/30 vs. Minnesota 6:30p 7:10p
Thu, 7/1 vs. Minnesota 12:30p 1:10p
Fri, 7/2 @ Detroit 5:30p 6:10p
Sat, 7/3 @ Detroit 2:30p 3:10p
Sun, 7/4 @ Detroit 11:30a 12:10p
Mon, 7/5 @ Minnesota 5:30p 6:10p
Tue, 7/6 @ Minnesota 6:30p 7:10p
Wed, 7/7 @ Minnesota 11:30a 12:10p
Fri, 7/9 @ Baltimore 5:30p 6:05p
Sat, 7/10 @ Baltimore 2:30p 3:05p
Sun, 7/11 @ Baltimore 11:30a 12:05p
Fri, 7/16 vs. Houston 6:30p 7:10p
Sat, 7/17 vs. Houston 5:30p 6:15p
Sun, 7/18 vs. Houston 12:30p 1:10p
Mon, 7/19 vs. Minnesota 6:30p 7:10p
Tue, 7/20 vs. Minnesota 6:30p 7:10p
Wed, 7/21 vs. Minnesota 6:30p 7:10p
Fri, 7/23 @ Milwaukee 6:30p 7:10p
Sat, 7/24 @ Milwaukee 5:30p 6:10p
Sun, 7/25 @ Milwaukee 12:30p 1:10p
Mon, 7/26 @ KC 6:30p 7:10p
Tue, 7/27 @ KC 6:30p 7:10p
Wed, 7/28 @ KC 6:30p 7:10p
Thu, 7/29 @ KC 12:30p 1:10p
Fri, 7/30 vs. Cleveland 6:30p 7:10p
Sat, 7/31 vs. Cleveland 5:30p 6:10p
Sun, 8/1 vs. Cleveland 12:30p 1:10p
Tue, 8/3 vs. KC 6:30p 7:10p
Wed, 8/4 vs. KC 6:30p 7:10p
Thu, 8/5 vs. KC 6:30p 7:10p
Fri, 8/6 @ Chi Cubs 12:45p 1:20p
Sat, 8/7 @ Chi Cubs 12:45p 1:20p
Sun, 8/8 @ Chi Cubs 12:45p 1:20p
Mon, 8/9 @ Minnesota 6:30p 7:10p
Tue, 8/10 @ Minnesota 6:30p 7:10p
Wed, 8/11 @ Minnesota 11:30a 12:10p
Thu, 8/12 vs. NYY 5:30p 6:15p
Sat, 8/14 vs. NYY 5:30p 6:10p
Sun, 8/15 vs. NYY 12:30p 1:10p
Mon, 8/16 vs. Oakland 6:30p 7:10p
Tue, 8/17 vs. Oakland 6:30p 7:10p
Wed, 8/18 vs. Oakland 6:30p 7:10p
Thu, 8/19 vs. Oakland 12:30p 1:10p
Fri, 8/20 @ Tampa 5:30p 6:10p
Sat, 8/21 @ Tampa 11:30p 12:10p
Sun, 8/22 @ Tampa 11:30a 12:10p
Mon, 8/23 @ Toronto 5:30p 6:07p
Tue, 8/24 @ Toronto 5:30p 6:07p
Wed, 8/25 @ Toronto 5:30p 6:07p
Thu, 8/26 @ Toronto 1:30p 2:07p
Fri, 8/27 vs. Chi Cubs 6:30p 7:10p
Sat, 8/28 vs. Chi Cubs 5:30p 6:10p
Sun, 8/29 vs. Chi Cubs 12:30p 1:10p
Tue, 8/31 vs. Pittsburgh 6:30p 7:10p
Wed, 9/1 vs. Pittsburgh 6:30p 7:10p
Fri, 9/3 @ K.C. 6:30p 7:10p
Sat, 9/4 @ K.C. 5:30p 6:10p
Sun, 9/5 @ K.C. 12:30p 1:10p
Tue, 9/7 @ Oakland 8:00p 8:40p
Wed, 9/8 @ Oakland 8:00p 8:40p
Thu, 9/9 @ Oakland 2:00p 2:37p
Fri, 9/10 vs. Boston 6:30p 7:10p
Sat, 9/11 vs. Boston 5:30p 6:10p
Sun, 9/12 vs. Boston 12:30p 1:10p
Tue, 9/14 vs. Anaheim 6:30p 7:10p
Wed, 9/15 vs. Anaheim 6:30p 7:10p
Thu, 9/16 vs. Anaheim 12:30p 1:10p
Fri, 9/17 @ Texas 6:30p 7:05p
Sat, 9/18 @ Texas 5:30p 6:05p
Sun, 9/19 @ Texas 1:00p 1:35p
Mon, 9/20 @ Detroit 5:00p 5:40p
Tue, 9/21 @ Detroit 5:00p 5:40p
Wed, 9/22 @ Detroit 11:30a 12:10p
Thu, 9/23 @ Cleveland 4:30p 5:10p
Fri, 9/24 @ Cleveland 5:30p 6:10p
Sat, 9/25 @ Cleveland 4:30p 5:10p
Sun, 9/26 @ Cleveland 11:30a 12:10p
Tue, 9/28 vs. Cincy 6:30p 7:10p
Wed, 9/29 vs. Cincy 6:30p 7:10p
Fri, 10/1 vs. Detroit 6:30p 7:10p
Sat, 10/2 vs. Detroit 5:30p 6:10p
Sun, 10/3 vs. Detroit 1:30p 2:10p
CHECK IT OUT: 100 sports records and the stories behind them
More From ESPN 104.1 FM and 1170AM