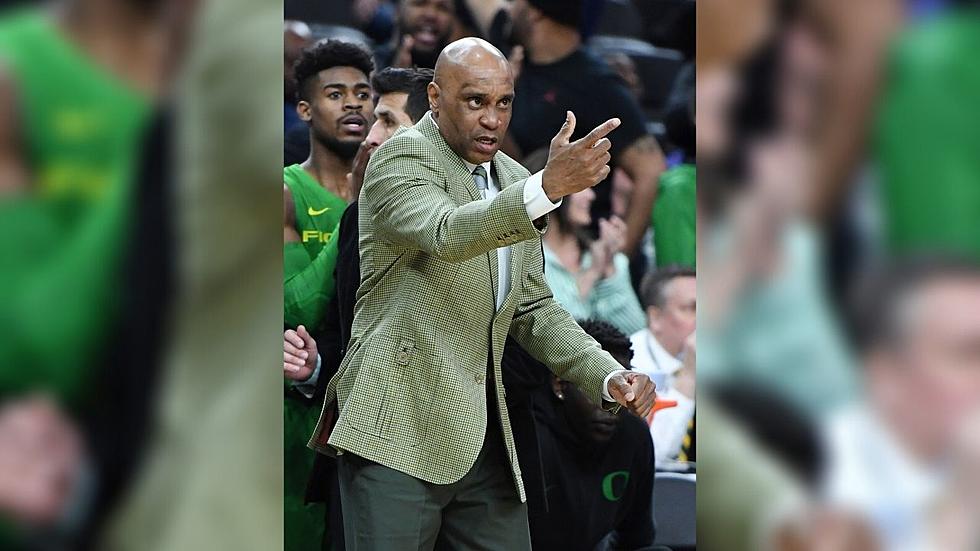 Clinton Native Hired As Men's Head Basketball Coach At DePaul
Getty Images
Tony Stubblefield, who has been on the coaching staff for the Oregon Duck's men's basketball team for 11 years, has been hired as the head coach for the DePaul Blue Demons. Stubblefield, who is also known as one of the top college basketball recruiters in the country, is also from Clinton, IA.
On Thursday, it was announced on ESPN that the DePaul men's basketball team was expected to hire Tony Stubblefield, assistant head coach with Oregon's men's basketball team, as their head coach. According to Jon Rothstein of CBS Sports, Stubblefield and DePaul have reached a 5 year deal. There hasn't been an official announcement, but many sources close to the dealings have confirmed the 5 year deal.
Stubblefield has 20 years of coaching college basketball under his belt, according to the Oregon athletic departments website. Stubblefield, 51, has helped Oregon assemble four recruiting classes that were ranked among the top 12 in the nation. Here is the experience he brought to the Duck's (in order from most recent to oldest):
Prior to Oregon, Stubblefield spent four years as an assistant at the University of Cincinnati, being their recruiting coordinator from 2006-10.
Before Cincinnati, Stubblefield served as assistant coach at New Mexico State for six seasons. One of those seasons, he was the interim head coach when then Lou Henson's health forced him to miss the season.
Stubblefield was the lead assistant and recruiting coordinator at the University of Texas-Arlington for four seasons before heading off to Cincinnati.
Upon graduation from the University of Nebraska at Omaha, he became an assistant coach at the University of Texas-San Antonio for the 1995-96 season. There he was responsible for coaching the guards and was the program's top recruiter.
Stubblefield actually began his coaching career as a student assistant for two seasons at the University of Nebraska at Omaha which is his alma mater. Stubblefield completed his undergraduate degree from UNO in 1995.
Before coaching, Stubblefield played two years of college basketball at Clinton Community College. He then transferred to UNO where he earned two letters playing guard. Stubblefield was also the team captain his senior season.
In high school, Stubblefield played at Clinton High School. I reached out to my former golf coach, Paul Niedermeyer, who was one Stubblefield's sophomore basketball coaches, along with coach Randy Tymer. Niedermeyer told me that halfway through the '85-'86 season, Stubblefield was sent up to play varsity for the rest of that season.
During Stubblefield's junior year, '86-'87, he also played on the River King's varsity squad. That year, the River Kings made it to the state tournament that year. The River Kings lost in the first round to Cedar Falls by a score of 55-49.
After the '86-'87 season, Stubblefield transferred to Bloomfield High School in Colorado. There, Stubblefield was one of the top players in the state of Colorado. He was the runner-up for state Player of the Year honors his senior season. Stubblefield also received the honor of first-team all-state and Boulder County Player of the Year.
Stubblefield will become the sixth African-American head coach in the DePaul's conference, the Big East, according to Forbes. He is replacing Dave Leitao, who has been DePaul's head coach for the past 6 season. Leitao was fired on March 15th.
Stubblefield has helped the Oregon Duck's to seven NCAA tournament appearances over the past nine seasons, including five Sweet 16 appearances and a Final Four in 2017, according to ESPN.
One of those Sweet 16 appearances happened this year, in the 2021 NCAA Tournament. The Duck's, who went into the tournament a #7 seed in the West conference, defeated the #2 Iowa Hawkeyes 95-80 in the second round. The Duck's lost in the Sweet 16 to USC 82-68.
You check the NCAA Tournament bracket here.
Quad City Area Home With Waterslide, Stage & More Selling For $2.5 Million
This gorgeous home for sale is just an hour away from the Quad Cities. Located at
26960 Sieverding Ridge in Bellevue, IA,
this beautiful home is what the realtor is calling "an entertainers dream". It has 4 bedrooms, 3.75 bathrooms, a 4 car garage, an in ground pool with a 97 foot waterslide, a full lodge with a bar and stage, and so much more. This is the listing of the house, according to the
Dubuque Area For Sale By Owner website.
This property has a 4,499 square foot house, a detached lodge with full bar and garage/workspace/shop, and an in ground fiberglass pool with a 97 foot water slide and pool house .
This gorgeous home is located in the country and is just 2 minutes away from homey, beautiful, Bellevue, Iowa.
It features many custom upgrades including, but not limited too:
All brick home
Granite countertops including 2 islands in the main kitchen
Stainless steel appliances
Beverage cooler
Maple and bamboo hardwood floors
2 fireplaces
Large master suite
Walk-in closets
Full kitchen in the basement
3 dishwashers
Large walk in pantry
Large dining room area
2 laundry rooms
Forced air heat and central air
Mud room/ locker area off the garage
Office
Large windows that allows natural lighting.
The property also includes a detached garage/lodge/bar/shop area that 3,440 square foot and all brick. The garage/lodge also has many customs upgrades including, but not limited too:
Full kitchen with granite countertops
Stainless steel appliances
Living and dining area
Full bathroom
Storage area that is currently used as a hunting lodge
Forced air heat and central air
Full bar entertainment area with stage that seats 50 plus people
Additional garage area that can used for multiple purposes including shop area, boat storage, etc.
And of course this home has a gorgeous in ground pool and gorgeous outdoor space. The in ground fiberglass pool is salt water and 16' x 40' and a kiddie pool/ tanning ledge that is 8' x 16' and an automatic pool cover. The pool also includes a basketball hoop. A large concrete deck overlooks the pool area where the 97 foot water slide begins.
There is a pool house too that includes a half bathroom, storage area, pool equipment room, full bar with ice machine, beverage coolers, stainless steel sinks, and concrete bar. A large built in pergola sits on the tanning deck which provides cooling shade. The pool is surrounded by concrete that creates space for many entertainment options.
See what this gorgeous, $2.5 million home in Bellevue, IA looks like below!
More From ESPN 104.1 FM and 1170AM