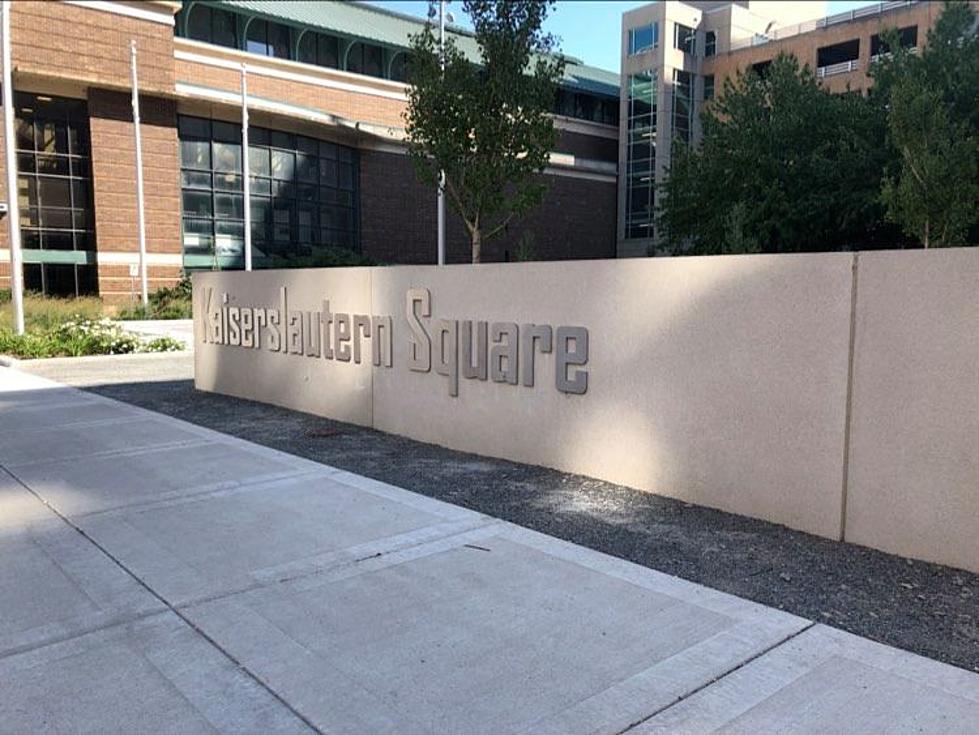 Davenport Welcomes New Recreation Space To Downtown
Connor Kenney/Townsquare Media Quad Cities
There is a new space for people who frequent downtown Davenport or people visiting the area. Kaiserslautern Square is an outdoor recreation space the sits across from the Adler Theatre. The official opening of Kaiserslautern Square, which includes a ribbon-cutting with city leaders and officials, is happening Friday but we snuck down to take photos of Davenport's newest addition to the downtown area.
On Thursday, the City of Davenport and community partners announced that they will gather in downtown Davenport for the official ribbon cutting of Kaiserslautern Square, a newly renovated outdoor recreation space located across from the Adler Theater. The ribbon-cutting will happen Friday, September 17 at 7:30 p.m.
Kaiserslautern Square is being named after Davenport's Sister City, Kaiserslautern, Germany. Kaiserslautern and Davenport became Sister Cities on June 10, 1960. Kaiserslautern was chosen as Davenport's sister city because of its close resemblance to Davenport in demographics, economics, and geography. Kaiserslautern's name came, in part, from the wealth of water and forest which are very much a part of the city. Kaiserslautern is a modern city with many remnants of the past, but as those who have been there can attest, its greatest asset is like Davenport's, its people.
Attending Friday's ribbon-cutting event includes Mayor Mike Matson, Davenport Alderman At-Larget, Kyle Gripp, Assistant Public Works Director, Clay Merritt, Chair of Davenport Sisters Cities, Molly Otting Carlson, and Executive Director of the Downtown Davenport Partnership, Kyle Carter.
Partnerships initiatives and cultural exchanges include but isn't limited to:
Community development projects like the new and improved K-Square and Lady Germania in downtown Davenport and the Davenport Plaza on Kaiserslautern's University campus
High school youth exchange hosting international experiences for hundreds of Davenport and Kaiserslautern youth since the late 1970s the most recent being 2018 for a technological competition with West High School
Saint Ambrose University professional exchange with Kaiserslautern University of Technology
A Kaiserslautern exhibit at the German American Heritage Center in partnership with the Kaiserslautern Municipal Museum
Faith-based exchange between Davenport First Presbyterian Church and Dietrich Bonhoeffer Kirche in Kaiserslautern
The creation of Christkindlmarkt is held at the Freight House each December. This year's event is scheduled for December 3-5 at the Freight House and will feature kid's activities as well as gifts and gluhwein! It is held in the traditional manner of a typical German outdoor market.
Kaiserslautern Square in Downtown Davenport
The City of Davenport has opened up its new recreation space in the heart of downtown. It's called Kaiserslautern Square. It's named after Kaiserslautern, Germany, the Sister City of Davenport. Kaiserslautern and Davenport became Sister Cities on June 10, 1960.
Hotel Davenport Demolition
The Hotel Davenport is located at 5202 Brady St. and was reportedly built in the early 1970s. Earlier this year it was decided that this hotel was no longer set to have guests.
According to the
Quad Cities times
, the Davenport hotel has faced a number of fires, along with safety and health code violations. This has led to the call for its demolition. I've driven past it many times and have seen that the building had clearly began to deteriorate.
It was scheduled for demolition earlier this year, and said demolition began in April. Many involved in this project are excited to see what the future holds for this lot in Davenport.
I drive past this spot every day for work, and over the last month have snagged some pictures of the demolition.
See 20 Ways America Has Changed Since 9/11
For those of us who lived through 9/11, the day's events will forever be emblazoned on our consciousnesses, a terrible tragedy we can't, and won't, forget. Now, two decades on,
Stacker
reflects back on the events of 9/11 and many of the ways the world has changed since then. Using information from news reports, government sources, and research centers, this is a list of 20 aspects of American life that were forever altered by the events of that day. From language to air travel to our handling of immigration and foreign policy, read on to see just how much life in the United States was affected by 9/11.
More From ESPN 104.1 FM and 1170AM