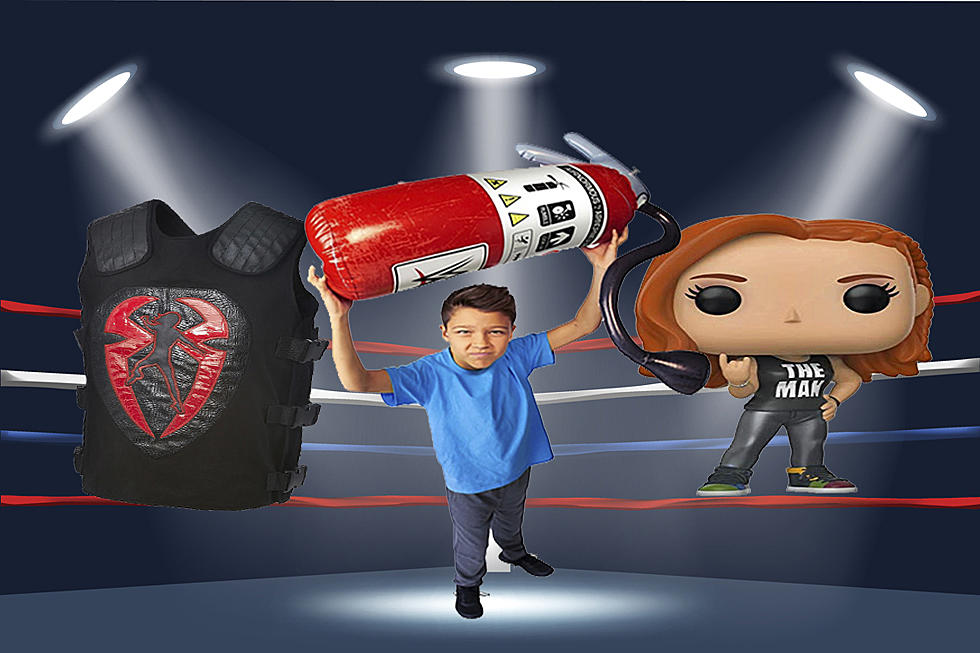 Get Ready to Rumble With WWE Toys, Gear & More
Getty Images/Amazon
As Amazon Associates, we earn on qualifying purchases.
Whether you're a new fan, an old fan, closet fan, superfan or no fan at all there's no denying that WWE is one of the most intriguing and entertaining things out there. Get in on the action and support your favorite Raw, SmackDown and NXT Superstars with some of the best fan gear that your hard-earned Money in the Bank can buy.
Prepare to train all of your action figures to wreck the competition with this playset inspired by the WWE training center where Superstars perfect their skills. Featuring a backstage gym area (complete with weight bench and punching bag), collapsible scaffolding, breakaway sign and collapsible ring this playset is perfect for any Wrekkin figures you already have and also compatible with Battle Packs.
Buy It: https://amzn.to/2Oi17eu
---
Double the slams with this Tough Talkers Match Pack and pit Seth Rollins against AJ Styles in the official WWE Tough Talkers Total Tag Team Interactive Ring. Each 6-inch WWE Superstar figure included in the pack comes with recognition technology allowing them to recognize one another and interact via authentic catch phrases and action sounds to bring the thrill of WWE trash-talking to life.
Buy It: https://amzn.to/38XQWUh
---
Finally, the Irish "lass-kicker" has come to be an exclusive pop! Vinyl from Funk! The Man, Becky Lynch, donning her iconic 'The Man' shirt is the perfect addition to your growing collection of WWE figures by Funk. Consider yourself a real big fan of The Man? Secure your own official T-Shirt to prove it.
Buy It: https://amzn.to/395FF48
---
​Arm yourself as leader of The Roman Empire with this Gauntlet accessory fashioned after the one worn by the four-time world champion himself. This action-packed accessory plays the Roman Reigns entrance theme along with plenty of other action sounds, some of which are activated by specific motions and sensor technology including an explosive power punch. Pair this gauntlet with a Roman Reigns It's My Yard Black/Red Replica Vest and totally transform yourself into the Big Dog.
Buy It: https://amzn.to/2S5xxd7
---
Champions need to eat like champions and the very best way to do that is with a well-balanced breakfast that includes a waffle shaped like the WWE Championship Belt. In fact, I encourage you to don your own replica championship belt while your waffles cook to make the entire experience that much more rewarding. This little mealtime winner doesn't stop at just waffles though, it'll cook hash browns, cookies and all kinds of other treats thanks to its non-stick plates.
Buy It: https://amzn.to/2u6uQ2Y
---
Got a budding little WWE mark in your life? Get them ready to rumble for the next main event with this two-pack of shirts officially licensed by the WWE. There's even an official wrestling robe to add to the ensemble that's sure to rev them up during their favorite wrestler's entrance and then calm them down with its coziness after the finish.
Buy It: https://amzn.to/2tWFvxn
---
Since we're on the subject of budding WWE fans, I have to draw attention to these amazing Airnormous Bash Props from AlphaToys. From John Cena Muscle Arms to Triple H Sledgehammer, Microphone to Championship Belt, these soft (and safe!) toys are larger than life and so much fun to battle with whether in your own at-home arena, in the pool or anywhere else you might come across a little SmackDown.
Buy It: https://amzn.to/2SfEN6o
---
Secure yourself some of these John Cena sweatbands and feel just as decorated as The Doctor of Thugonomics. Probably the most prolific wrestling star since Hulk Hogan and/or The Rock, John Cena is an actor, rapper and TV personality outside of the ring but that doesn't take away from the fact that he's won 16 WWE World Championship Belts during his career. No wonder he needs sweatbands!
Buy It: https://amzn.to/2OunJIW
---
From the 1950s to present, professional wrestling has gifted the world with so many amazing characters that continue to deserve fan support in t-shirt form. Without the world of professional wrestling no one would know about Randy Savage, The Undertaker, Hulk Hogan, Ric Flair, Stone Cold Steve Austin or the late Rowdy Roddy Piper and I, for one, am delighted to have known them all.
Buy It: https://amzn.to/2GU198c
More From ESPN 104.1 FM and 1170AM