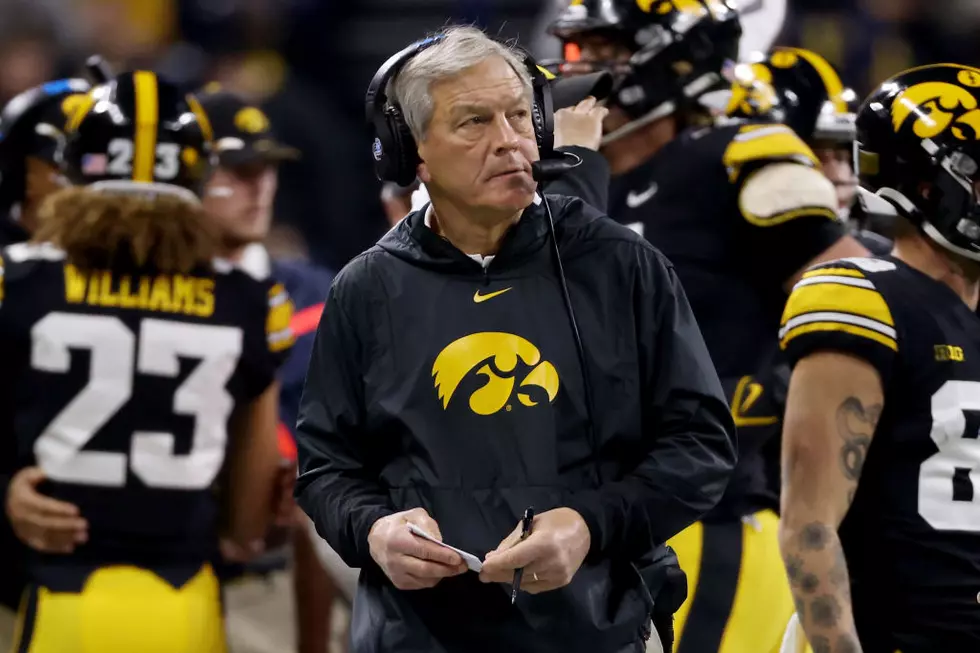 Iowa Hawkeyes Coach Has Strong Message to His Young Players
Getty Images
With a 2-1 record to start the year, the Hawkeyes will not only face their first BIG 10 opponent of the season but will also be tested for the first time on the road. The Hawkeyes take on the Rutgers Scarlet Knights this Saturday, in a night game, with the kickoff scheduled for 6 p.m.
Head coach Kirk Ferentz spoke during his normal Tuesday press conference and talked about the young players for the Hawkeyes. This will be their first road test and playing in what is sure to be a hostile environment. According to KCRG, he said
There's only one way to learn it's like swimming you've got to get in the water and go.
He's exactly right. There are things football teams can try to do in practice to simulate what the crowd noise will be like. Teams will practice with music in the speakers bumped up to max volume or insert fake crowd noise throughout practice. Will the younger players be able to keep their heads on straight in a stadium full of screaming Scarlet Knight fans? We'll find out on Saturday. You can simulate it all you want in practice but until you're on the field and can feel the energy of the stadium, you just don't know how individual players will react until the time comes.
According to KCRG, Ferentz was confident his veteran players would be used to the energy and noise but he also said the younger players "have no choice but to learn on the fly."
There has been a huge emphasis on communication this week in practice. Starting Quarterback, Spencer Petras, is confident the Hawkeyes will get used to it pretty quickly. He told KCRG
The biggest thing is just communication and guys naturally just talk louder and you end up screaming.
Over the past years, Rutgers hasn't exactly been known as a football powerhouse but their team has appeared to be improved this year. Iowa will have to play good football to win this Saturday night and Hawkeyes fans shouldn't be looking past this Rutgers team. According to KCRG, Petras said
It doesn't look like Rutgers of the past. Rutgers has struggled a little bit going back a few years this is not, to me, on tape a team that looks like maybe they did in the past.
In a year that has started off somewhat shaky for the Hawkeyes and Hawkeye fans, they look to get their third win of the season and keep the ball rolling, as they begin playing BIG 10 teams. These games are the reason these younger Hawkeye players decided to play football for Iowa. Big games, with big stakes. Hopefully, they're able to quickly get used to what BIG 10 football is all about.
Back in 2019, the Hawkeyes beat Rutgers convincingly with a 30-0 victory at Kinnick Stadium. They look to do that again, on the road this Saturday.
Iowa Born Sports Stars
What do each of these stellar athletes have in common? They all hail from the Hawkeye State.
Best Sports Bars in Eastern Iowa
Here are the best sports bars in all of Eastern Iowa
More From ESPN 104.1 FM and 1170AM