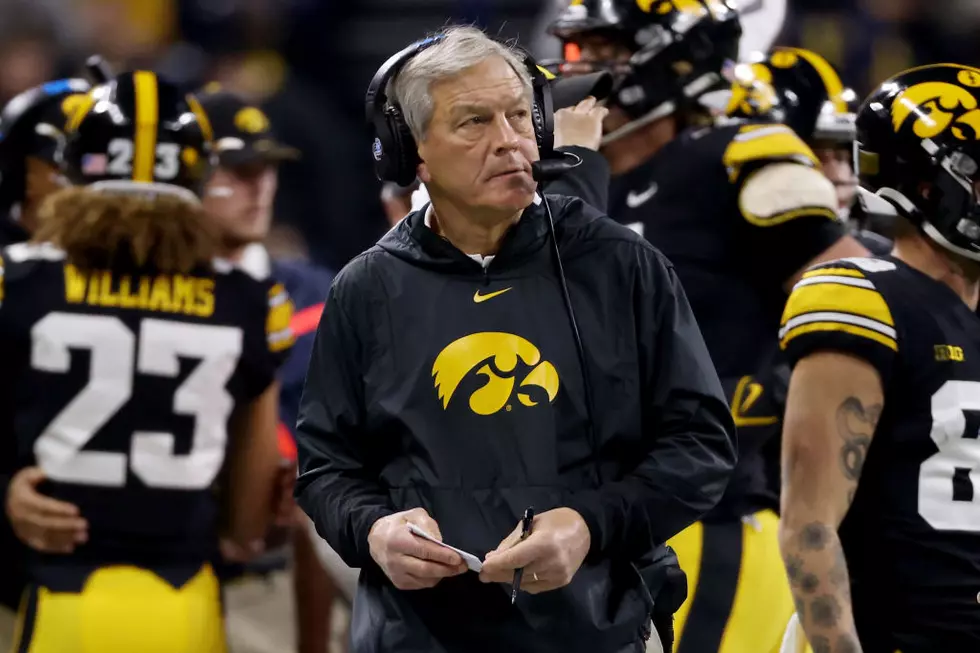 Kirk Ferentz Says New Team Leaders Are Needed For Next Season
Getty Images
After a somewhat successful season last year for the Iowa Hawkeye football team, which won the music city bowl 21-0 over Kentucky, the team is hoping to be much improved on the offensive side of the ball heading into next season. The Hawkeyes are also going to be looking for new players to step up and take over leadership roles on the team.
As head coach, Kirk Ferentz, met with media members yesterday (March-22) he realizes the team will be losing four captains from the 2022 team. According to KCRG, Ferentz often used the term "leadership void" during his press conference. He said
The guys that are older guys now they've seen good leadership modeled. They've learned from them and I think they also feel an obligation to help fill those voids.
One player the Hawkeyes are hoping can help fill a leadership role wasn't a part of the team last season. Cade McNamara has transferred to join the Hawkeyes in the upcoming season. While Cade was the starting QB at Michigan, in 2021, he started every game and he helped lead the team to the 2021 Big Ten championship. That season, Michigan played in the Orange Bowl, losing to Georgia 34-11. In the 2022 season, Cade started the opening game but lost the job to J.J. McCarthy.
KCRG reports, McNamara, for now, has been listed first at the Quarterback position on the spring football depth chart. It appears as if it's his job to lose. Not only will McNamara need to prove he deserves the position by playing well on the field but filling in the leadership void could also go a long way in helping him keep the position.
Ferentz believes they've found a leader in McNamara. According to KCRG, he said
Just looking across the field at him he sure struck me as a leader. Watching him on film going into that game (the 2022 Big Ten Championship game) struck me as a leader of a really good football team.
McNamara is coming off knee surgery and the Hawkeyes are still waiting to see him fully participate. It will be a little over 2 months before he's most likely ready to go full speed, according to KCRG.
Iowa Born Sports Stars
What do each of these stellar athletes have in common? They all hail from the Hawkeye State.
What Non-Iowans Think of Iowa
Iowa is the capital of the Midwest! Ok, that's unofficial, but it's my stance. Here's what NON Iowans think of us.
More From ESPN 104.1 FM and 1170AM