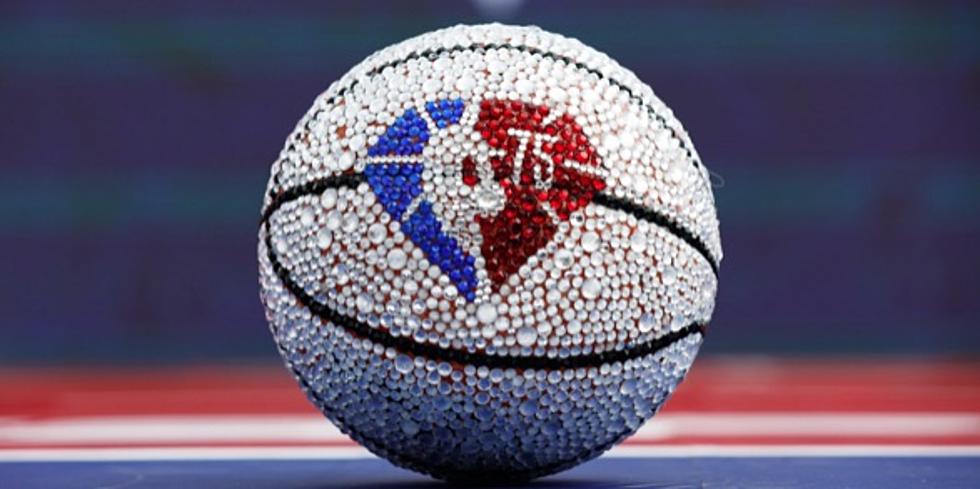 Jared C. Tilton/Getty Images
The NBA unveiled its 75th Anniversary Team this week.  The list was selected by a panel of current and former players, coaches, executives and media members.  The NBA did a same list in 1996 of the 50th Anniversary team, too.  Every player on the 50th team is on the 75th.
In 1996, the controversy was that Shaquille O'Neal was on the list-- talk was too soon to be honored.  Looks like the panel knew what they were doing, though.  This time, the controversy is who ISN'T on the list.
Here is the list (broken up my letter range to ease the clutter on your eyes):
A-C: Kareem Abdul-Jabbar, Ray Allen, Giannis Antetokounmpo, Carmelo Anthony, Nate Archibald, Paul Arizin, Charles Barkley, Rick Barry, Elgin Baylor, Dave Bing, Larry Bird, Kobe Bryant, Wilt Chamberlain, Bob Cousy, Dave Cowens, Billy Cunningham, Stephen Curry
D-I: Anthony Davis, Dave Debusschere, Clyde Drexler, Tim Duncan, Kevin Durant, Julius Erving, Patrick Ewing, Walt Frazier, Kevin Garnett, George Gervin, Hal Greer, James Harden, John Havlicek, Elvin Hayes, Allen Iverson
J-M: LeBron James, Magic Johnson, Sam Jones, Michael Jordan, Jason Kidd, Kawhi Leonard, Damian Lillard, Jerry Lucas, Karl Malone, Moses Malone, Pete Maravich, Bob McAdoo, Kevin McHale, George Mikan, Reggie Miller, Earl Monroe
N-R: Steve Nash, Dirk Nowitzki, Hakeem Olajuwon, Shaquille O'Neal, Robert Parish, Chris Paul, Gary Payton, Bob Pettit, Paul Pierce, Scottie Pippen, Willis Reed, Oscar Robertson, David Robinson, Dennis Rodman, Bill Russell
S-W: Dolph Schayes, Bill Sharman, John Stockton, Isiah Thomas, Nate Thurmond, Wes Unseld, Dwyane Wade, Bill Walton, Russell Westbrook, Lenny Wilkens, Dominique Wilkins, James Worthy
There were some people that have been left off the list that has given the talking heads something to discuss-- including us at Don't Hassle Us We're Local on ESPN 1170 AM (scroll down to watch/listen):
Dwight Howard
Vince Carter
Alex English-- listen, I don't care if Alex English led the NBA in scoring in the 1980s.  If Mark Grace, who led the MLB in hits in the 1990s, is not in the Halll of Fame than English does not get to be on the list.
Dennis Johnson
Tony Parker & Manu Ginobili-- with Tim Duncan this is the most successful threesome in league history.
Pau Gasol
Damian Lilliard
Klay Thompson
Paul George
James Harden
Ben Wallace
Luca Doncic
Alonzo Mourning
WHO ELSE DO YOU THINK WAS WRONGFULLY LEFT OFF THE LIST?
WHAT NOT PLAYERS MENTIONED WILL BE ON THE 100TH TEAM?
FROM THE 75TH TEAM WHAT WOULD BE YOUR STARTING FIVE?
More From ESPN 104.1 FM and 1170AM