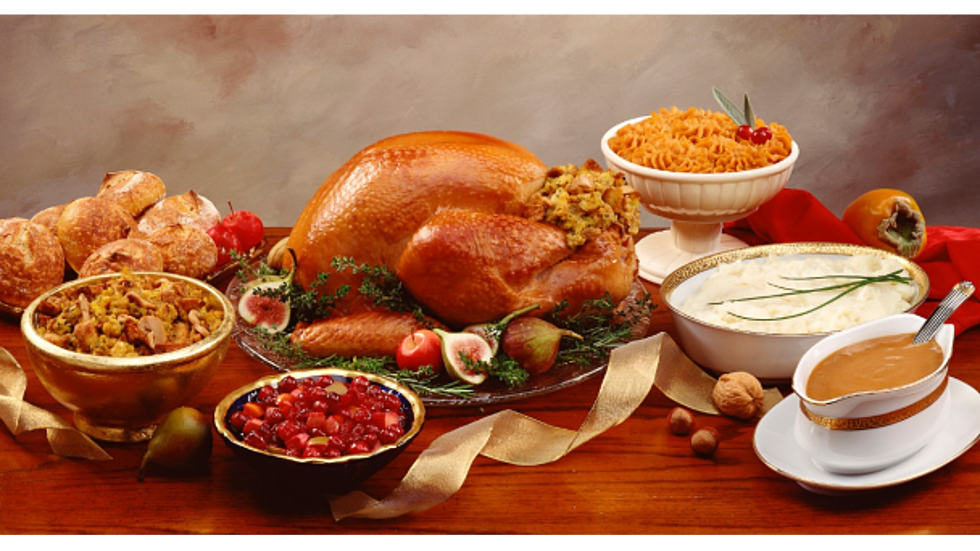 These QC Restaurants Are Open If You Don't Want To Cook
Bix Bistro at the Hotel Blackhawk in Davenport
Join them for a feast to remember at Bix Bistro, featuring their chef's favorite traditional dishes!
Seatings at 12, 2, 4 p.m.
$29.95 per person; children 8-12 $14.95; children 7 and under free
Call 563-484-5900 for reservations.
Up Skybar at The Current Iowa in Davenport
Open for dinner from 4-10 pm.
563-231-9556
Jumer's Casino & Hotel in Rock Island
Thanksgiving feast, plus prime rib, baby back ribs, and the Seafood Bar. So get your bibs on and forks up.
11 a.m. to 8 p.m.
$24.99
Over 21 years only. No reservations needed.
Montana Jack's in Moline
They are serving their full menu, plus you can order turkey and ham with all of the traditional fixings.
11 a.m. to 7 p.m.
309-736-4208
Johnny's Italian Steakhouse in Moline
Traditional Thanksgiving Buffet serving all of your Thanksgiving favorites with all the trimmings.
11 a.m. to 3 p.m.
Adults $25, Children up to age 12 – $1.00 per year of age.
Call 309-736-0100 for reservations.
Thunder Bay Grille Thanksgiving Buffet in Davenport
Enjoy all the traditional favorites on the buffet. Turkey, Stuffing, Mashed Potatoes, Gravy, Candied Carrots, Green Bean Casserole, Baked Ham, Carved Roast Beef, Sweet Potatoes, Cranberry Relish, Salad Bar, Pies and Desserts and more!
10 a.m. to 4 p.m.
$21.99 ages 11 & up; $10.99 ages 5 to 10; Free ages 4 & under
Call 563-386-2722 for reservations.
Prairie Grille in Davenport
Thanksgiving Day Brunch with all of your Thanksgiving favorites and assorted desserts.
11 a.m. to 2 p.m.
Adults $20, Children 4-10 yrs. $9, 3 yrs. and Under are free
Call 563-386-6900 for reservations.
Isle Casino Bettendorf Farmer's Pick Buffet
Enjoy turkey, stuffing, mashed potatoes, and other signature Thanksgiving Day favorites.
11 a.m. to 9 p.m.
$24.99 per adult
No reservations are needed.
Granite City in Davenport
Three-course family style Thanksgiving Dinner, complete with traditional and unique Thanksgiving sides and decadent desserts!
11 a.m. to 8 p.m.
$24.95 per adult; $8.95 kids 12 and under.
Call 563-344-9700 for reservations.
Iowa 80 Truckstop
Full Buffet includes turkey and ham, dressing, fried chicken, BBQ ribs, a lot of sides, and pumpkin pie and assorted cakes.
11 a.m. to 9 p.m.
$16.75 includes beverage
TPC Deere Run
Traditional Thanksgiving buffet, expertly prepared by Executive Chef, Sean Dittmer and his team.
Seating from 11:30a.m. to 1 p.m.
$31 per adult; $12 for children
Call 309-796-4020 for reservations.
Bob Vogelbaugh's 47th Annual Community Thanksgiving Dinner at SouthPark Mall in Moline
Free and open to everyone of the Quad Cities Area. Over 2,500 are served by 400 volunteers. Volunteers needed for set-up starting at 8 a.m. and serving after 3 p.m.
4-6 p.m.
Fees: None
No reservations needed.
More From ESPN 104.1 FM and 1170AM