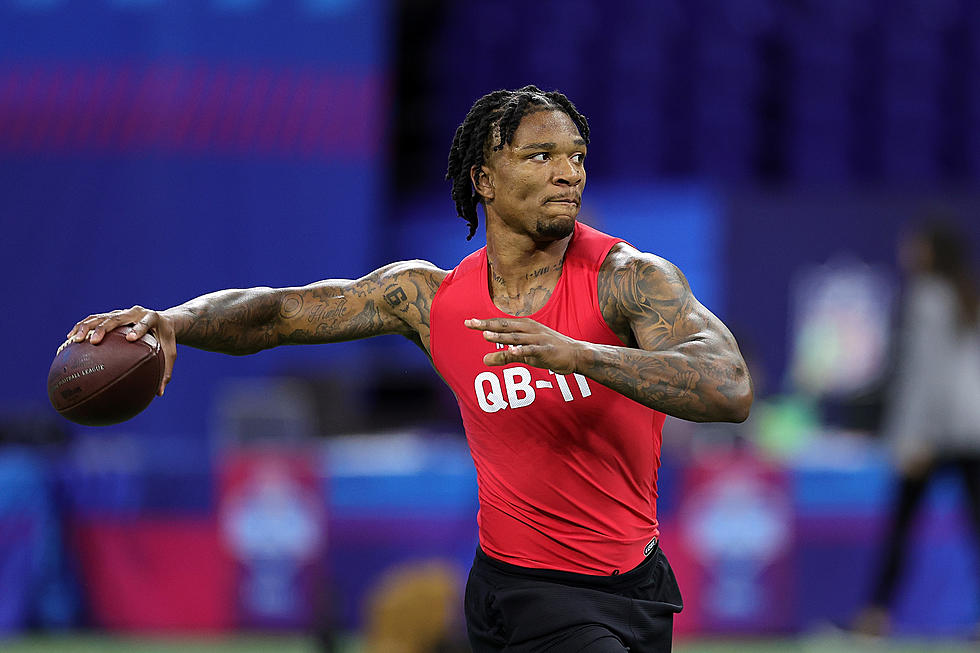 Will Anthony Richardson Be the First NFL QB Benched This Season?
Photo by Stacy Revere/Getty Images
This content was produced in partnership with Gambler Labs.
The quarterback position is maybe the most important position in all of sports. 
When you have a good one, you have a chance to compete year after year for a Super Bowl.  When you don't have a good one, you are constantly on the hamster wheel trying to find one. 
So as we enter the 2023 season, which starting quarterback might be the first one to get benched (non-injury related)?
Well, we know the Indianapolis Colts decided to go with their first-round pick, No. 4 overall, Anthony Richardson as their starter this season. 
So what are the chances he makes it through the season as the Colts starter? 
Let's take a look at some current offers from betting sites in New Jersey as per NJ bet around the country to see if they think he has the staying power to last as the Colts starter. 
1st QB Lose Starting Job 2023 Regular Season (Non-Injury)

Baker Mayfield

2/1

Sam Howell

4/1

Ryan Tannehill

6/1

CJ Stroud

7/1

Mac Jones

7/1

Desmond Ridder

9/1

Anthony Richardson

10/1

Bryce Young

12/1

Jimmy Garoppolo

14/1

Jordan Love

14/1

Matthew Stafford

16/1

Jared Goff

20/1

Brock Purdy

25/1

Kenny Pickett

25/1

Derek Carr

40/1

Geno Smith

40/1

Justin Fields

40/1

Kirk Cousins

40/1

Daniel Jones

50/1

Deshaun Watson

50/1

Russell Wilson

50/1

Dak Prescott

100/1

Joe Burrow

100/1

Tua Tagovailoa

200/1

Justin Herbert

250/1

Trevor Lawrence

250/1

Aaron Rodgers

500/1

Jalen Hurts

500/1

Josh Allen

500/1

Lamar Jackson

500/1

Patrick Mahomes

1000/1
 Let's break this down. 
At 10/1 odds, there just isn't enough value for me to play this, mainly because I don't think Richardson will be benched during the season, regardless of his play.  The backup in Indianapolis is veteran Gardner Minshew, but I don't see the Colts being competitive enough to make a change in season at the position and will continue to give Richardson on-the-job training this season. 
Which of these odds do I like?
I'm going to go with Brock Purdy at 25/1 odds as per agamble.com betting experts.  Not because I don't like Purdy, I think he is a tremendous story, but more because I think his sample size was so small last year that teams maybe have a chance to study him more, confuse him and figure him out. 
Purdy is coming off major elbow surgery, suffered in the NFC Championship game against the Philadelphia Eagles, and some thought he might not be ready to start the season. However, he will be under center when the 49ers open the season, but maybe he is ready to play and the Niners get off to a slow start and replace Purdy with former No. 2 overall pick Sam Darnold to give them a spark.
At 25/1 I think it's worth a shot. 
One other one I would take a shot on is Sak Prescott at 100/1.  Hey, its a long shot, but at 100/1 odds, if he again is sloppy with the football, maybe the Cowboys feel pressure to make a move to either Cooper Rush or the newly acquired Trey Lance. 
Prescott is a very good quarterback, but his turnovers can be an issue, and if they are holding the Cowboys back, Jerry Jones just might step in and order Mike McCarthy to play his new you, former No. 3 overall pick, Trey Lance. 
If you or anyone you know has a gambling problem, call 1-800-GAMBLER.
More From ESPN 104.1 FM and 1170AM