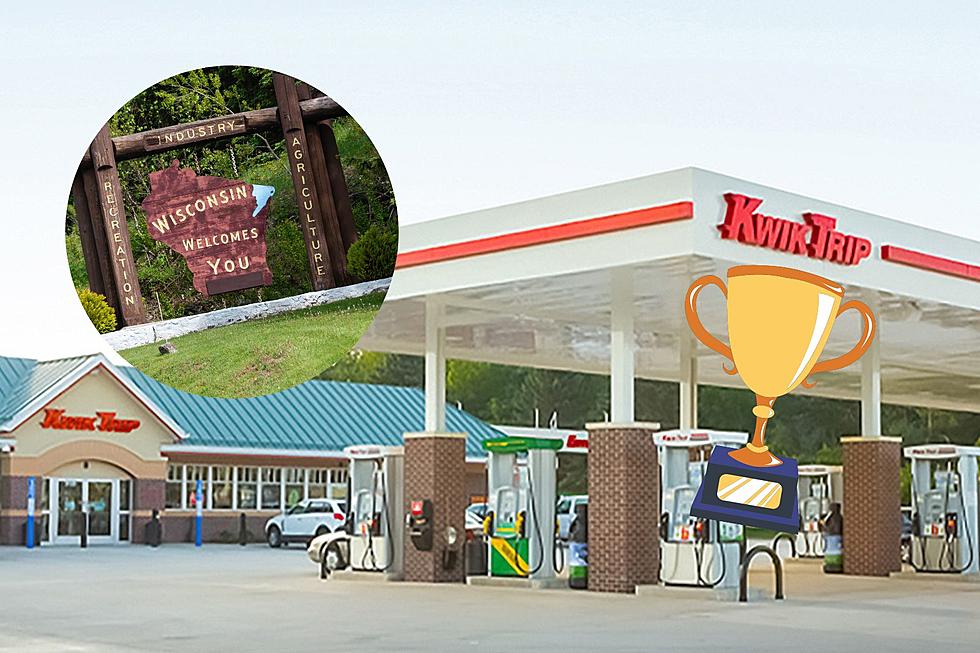 Wisconsin's Own Kwik Trip Has Been Named Greatest Gas Station in America
Kwik Trip / Canva
Summer road trip season is in full swing.  If you are driving around the Midwest there is one site as good as your destination, or even as good as getting back home.
Wisconsin, Iowa, Illinois, and Minnesota know when you have to get gas, a snack, a full-on meal, or go to the bathroom, the best place to do it is at a Kwik Trip.
The USA Today list below has some missing surprises but is still enough to get you from coast to coast.
Readers Choice 2023
The USA Today 10 Best annually puts out lists of the best of nearly everything across the country.
USA Today collects nominees from a panel of experts.  The "10Best" editors narrow the field to select the final set of nominees for the Readers' Choice Awards. Readers can vote once per category, per day.
This of course means while the absolute best gas station in America could be a one-off mom-and-pop type place in the middle of nowhere, nobody knows about it so it's not going to be voted the best.  To be the best, you have to reach the masses.  Like these on the list.
The Top 10 Best Gas Stations In America
10 - Sapp Bros. Travel Centers - While you can find these from Utah to Pennsylvania, there are only 17 full-service Sapp Bros. across the country.
9 - Quik Trip - This is the reason folks in Iowa and Illinois have "Kwik Star" instead of "Kwik Trip".
8 - Love's Travel Stops - More than 600 locations across the country, typically known for truck stops.
7 - Sheetz - Located throughout the east, Sheetz is known for their 24/7 menu of made-to-order sandwiches.
6 - Parker's - 70 stores in Georgia and South Carolina which is known (like many others on the list) for its food, not its gas.
5 - Maverik - USA Today says "Try the breakfast burrito" if you are visiting one of their 400 locations across the West.
4 - Royal Farms - Clean bathrooms can be found in the northeast making it a popular stop.
3 - RaceTrac - Across the Southern portion of the United States, RaceTrac has a very Kwik Trip feel to them.
2 - Hy-Vee - Yes, this is a gas station list.  But the grocer has become popular enough with their quick gas stations to make it at number 2 on the list.
Best That Are Missing From The List
Now if you are anywhere in Midwest you might be thinking "Where is Casey's?"  With 552 stores it is a bit of a surprise.  But this is an overall gas station list, not the best pizza at a gas station list.
The other downright shocker is how there are no beavers on this list.  Buc-ee's may only have 45 locations, but some folks in Texas won't go anywhere else for their gas or Beaver Nuggets.  As they expand, expect the massive store to become a regular on this list.
Why Kwik Trip and Kwik Star are top of the list.
First off, location, location, location.  They are everywhere in the Midwest and growing.  Over 800 locations when adding together the different brands.
USA Today says "Their bakeries make more than two dozen different items each day, and all milk is sourced from dairy farms within a 100-mile radius of La Crosse, Wisconsin."
Anybody that has been in the know the prices are fair (if not better than your large stores even while being convenient) the donuts are the best in the morning, the chicken can be dinner at night and they have walk-in beer coolers at most.
Plus of course...the bathrooms.  After a 5-hour car ride or a 5-minute can't quite make it home in time from work, it's nice to stroll (or run) into a Kwik Trip / Kwik Star bathroom.
Enjoy your summer road trip.
Wisconsin Goodwill Stores Do Not Accept These 15 Items
Chris Farley's Childhood Home
822 Farwell Dr, Madison, Wisconsin was the home of a comedic genious.
More From ESPN 104.1 FM and 1170AM