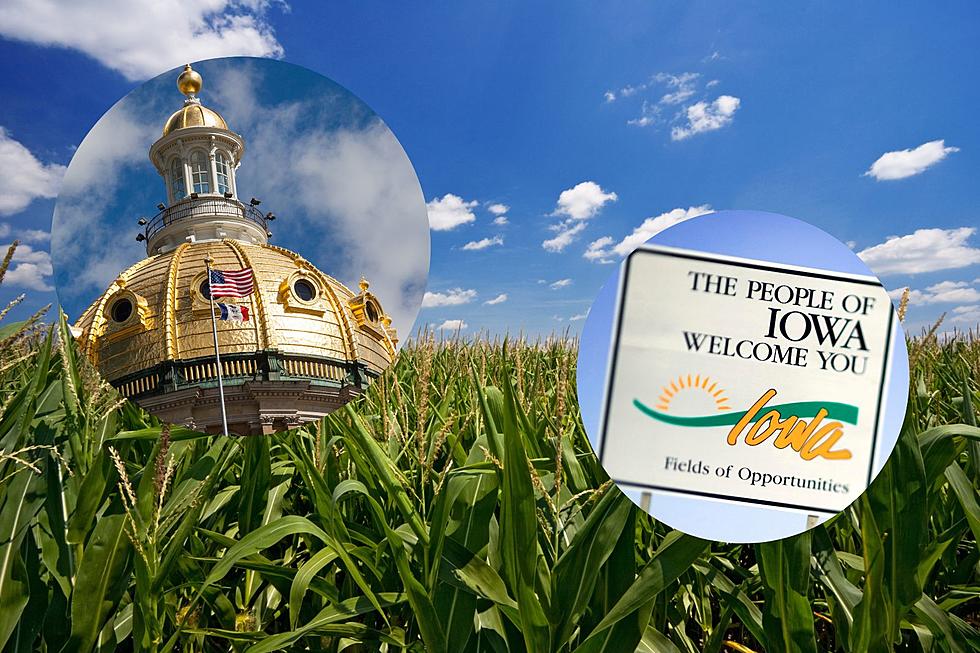 Iowa Has A Fancy New State Logo and Slogan To "Attract Business"
Canva
For 25 years Iowa has been a place with "Fields of Opportunities" capitalizing on Iowa's most famous field where a father and son had a game of catch.  But now, those fields are changing and the state will be changing its slogan and logo as part of a full government realignment.
The Governor says it will attract business, but not all in Iowa are in favor of the changes.
Realignment of Iowa Government
The realignment of the state government was passed in April but just took effect in July.  The logo and slogan are a small part of an otherwise big shift in the state.
Iowa is expected to save around $215 million over the next four years as the realignment moved 2,600 employees to other departments and eliminated 500 vacant positions that "had been empty for a long time".
However, not all are in favor of the shift.  House Democratic Leader Rep. Jennifer Konfrst said in a statement, "Last year, Gov. Reynolds gave $1 million to an out-of-state consultant to develop a plan to consolidate state government. It is clear she didn't listen to any Iowans."
During a recent press conference members of departments touted the realignment with praise of already better communication and less overlap.
Iowa's New Logo and Slogan
Now don't worry, the state will still be known as "The Hawkeye State".  This is simply the government's slogan for Iowa.
Soon you will see road signs, government websites, stationary, and marketing pieces designed to bring in more business with Iowa's new logo.
Will businesses see that logo and the slogan of "Freedom to Flourish" and come rushing to the state?  That is to be seen.
But you'll be seeing it on 68 welcome signs on highways at the state border.  Governor Reynolds said, "Existing budgets will be used to phase in the branding".
Perhaps the new coat of paint and rebranding will help.  But for those that still love "If you build it they will come." and "Is this heaven?  No.  It's Iowa." there is something about having Fields of Opportunities as our slogan that felt right.  It's memorable.  It's fitting.  It's Iowa.
LOOK: Where people in Iowa are moving to most
Stacker
compiled a list of states where people from Iowa are moving to the most using data from the U.S. Census Bureau.
The 10 Best Lakes For Swimming In Iowa
Iowa may only have 34 natural lakes, but there are plenty of lakes for you to enjoy boating, fishing and even cooling off during the summer by going swimming. Here are the 10 best to check out.
More From ESPN 104.1 FM and 1170AM