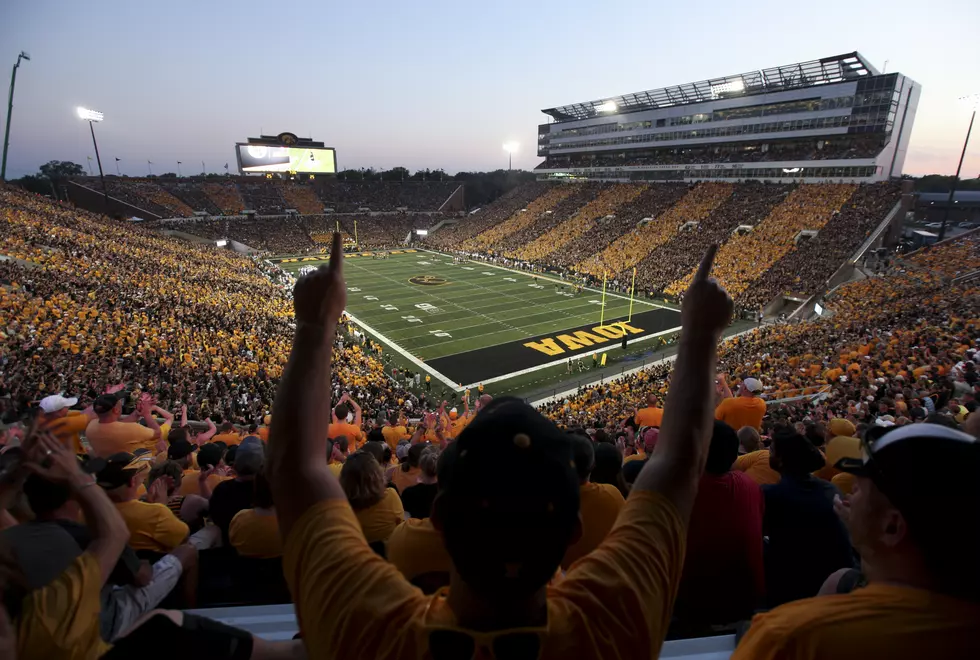 All 7 Iowa Football Home Games Sold Out, Here's How To Still Get Tickets
Getty Images
For the first time in 11 years, Kinnick Stadium will be sold out for every Iowa Hawkeye home football game. If you were trying to make plans to see the Hawkeyes this season and it seems like all hope is lost, don't worry, there is still a way. You'll probably have to pay a little more, but if you bleed black and gold, you probably won't mind.
In a press release on Wednesday, the University of Iowa and the University of Iowa Athletic Department announced that all 2022 Iowa Hawkeye home games on Duke Slater Field at Kinnick Stadium have been sold out. The last time Iowa sold out all seven home games in Kinnick Stadium was 2011. And when we say Kinnick is sold-out, we aren't joking. Officials say that Iowa has sold out season ticket orders, UI student tickets, Fight For Iowa Mobile Passes, and Mini Plans.
The 2022 regular season includes consists of 12 games with 7 of them at home. Here is who the Hawkeyes will be playing at home this season:
South Dakota State (Sept. 3)
Iowa State (Sept. 10)
Nevada (Sept. 17)
Michigan (Oct. 1)
Northwestern (Oct. 29)
Wisconsin (Nov. 12)
Nebraska (Nov. 25)
The Iowa Hawkeyes will be on the road the following dates playing these opponents:
Rutgers (Sept. 24)
Illinois (Oct. 8)
Bye (Oct. 15)
Ohio State (Oct. 22)
Purdue (Nov. 11)
Minnesota (Nov. 19)
The University of Iowa said in the release that a limited number of hospitality ticket packages are available for select games. Ticket information is available at hawkeyesports.com/tickets.
If you still want to look at trying to see the Hawkeyes play in Iowa City this year, there are two ways to do so:
Beg and plead with a friend to take you or convince them to let you buy their tickets
Buy tickets on StubHub
University of Iowa officials say that fans still looking for tickets are strongly encouraged to use StubHub, the official fan-to-fan marketplace of Hawkeyes, for sold-out events. We looked at StubHub to see if tickets were still available and there are plenty. You may be paying a little bit more compared to if you bought them through the UI Athletic Ticket Office, but at least you can still get tickets.
Officials say that the UI Athletic Ticket Office (hawkeyesports.com/tickets) is only able to service/support purchases made through that office, or on StubHub. Persons buying tickets from other entities do so at their own risk.
If you're looking for humor in this news, the final Iowa Hawkeye home football game to sell-out for the upcoming season was Iowa's regular-season finale against Nebraska, scheduled for Nov. 25 at 3 p.m. Why is that funny? Because Nebraska sucks.
All tickets for University of Iowa athletic events are distributed electronically and should be downloaded to a smartphone device. If you do not have access to a smartphone, please contact the ticket office to make arrangements.
Go Hawks!
We Judged The Mississippi Valley Fair Food Contest And It Was Very Hard
Goose from 97X & Sarah from B100 were judges in the 2022 food vendor contest at the Mississippi Valley Fair!
10 Ways to Help Your AC Help You Stay Cool This Summer
Energy is expensive. Don't make your air conditioner do ALL the work. Here are some things you can do to make sure your AC unit doesn't struggle.
Because when it struggles to work...you struggle to pay the bill!
More From ESPN 104.1 FM and 1170AM